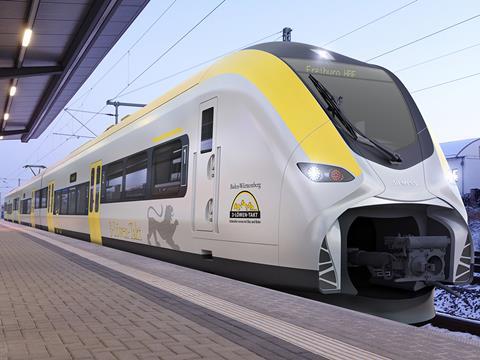 GERMANY: DB Regio has become the first customer for Siemens' Mireo electric multiple-unit design, placing a firm order for 24 trainsets as well as 15 Desiro HC units.
The conclusion of the rolling stock contracts follows the formal award by the Land of Baden-Württemberg of agreements for DB Regio to operate Rheintal Netz 4 services for 12½ years from June 2020.
The Mireo rolling stock concept was unveiled by Siemens at InnoTrans 2016. 'Following the product launch, we very quickly succeeded in entering the market', said Sabrina Soussan, CEO of Siemens' High Speed Trains, Regional Trains & Locomotives business on February 16. 'Mireo combines economy with sustainability and offers optimal flexibility over its entire lifecycle.'
Three-car 160 km/h Mireo single-deck EMUs with 220 seats are to be used on Offenburg – Freiburg – Basel/Neuenburg stopping services, as well Freiburg –Endingen/Breisach services on Sundays. The aerodynamic design is intended to be quieter than previous EMUs, while the lightweight construction and 'intelligent' power management systems will reduce energy consumption by 25%, Siemens said.
The four-car 160 km/h Desiro HC units will operate Karlsruhe – Offenburg – Freiburg – Basel regional express services. The driving cars will be single-deck vehicles and the intermediate cars double-deck, giving an overall capacity of 410 seats within a length of 105 m. More than half of the interior will have step-free access.