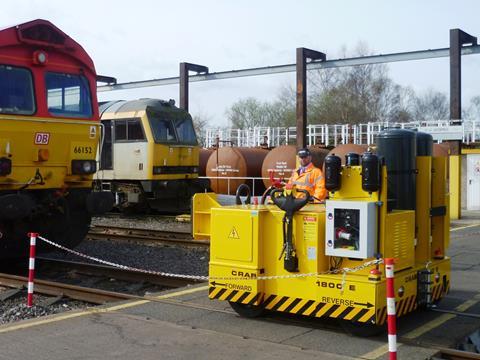 UK: This month DB Schenker Rail UK has begun using Zephir 1800e Crab battery machines instead of diesel shunting locomotives at its Toton and Crewe depots, where almost 14 000 loco movements are undertaken each year.
The freight operator says the Zephir 1800e CRAB is capable of moving 400 tonnes with a maximum drawbar pull of 20 kN – or up to three EMD Class 66 locomotives – in dry conditions, and 16 kN in the wet.
As well reducing emissions, the electric machines improve safety by increasing visibility and requiring less human interaction when coupling. Reduced exposure to exhaust emissions and noise within the depots also provides a better staff working environment.
'We look forward to seeing the long-term benefits that the electric shunters will provide and are proud to be the first rail freight operator in the UK to introduce them', said Andrew Byrne, Head of Maintenance & Infrastructure at DB Schenker Rail UK.