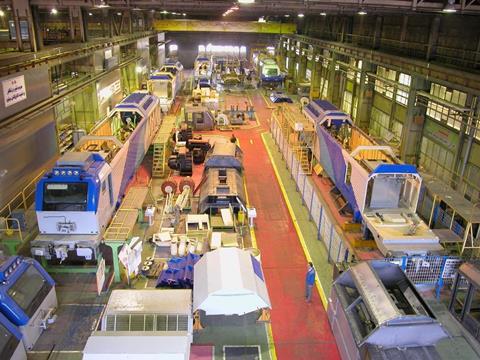 IRAN: The defence ministry has ended its involvement with rolling stock manufacturer Wagon Pars, Defence Minister Amir Hatami said on August 27.
He explained that the ministry was divesting its shares in 130 companies including Wagon Pars, but did not state what stake the military holds in the company or where the shares would be transferred to. The move follows growing criticism of the role of the military in the Iranian economy and mounting pressure on the economy as a result of the reimposition of US sanctions.
Founded in 1974 and based in Arak, Wagon Pars has been assembling rolling stock for the domestic market since 1999 when it was awarded a licence from GEC-Alsthom to produce Prima AD43C main line diesel locomotives. The first of these entered traffic in 2002, and in 2016 Wagon Pars agreed to repower them with engines supplied by Anglo Belgian Corp.
The company still manufactures the AD43C and has expanded its range to include the Krauss Maffei/ABB-designed ME10 diesel-electric locomotive and the DH4-1 four-car inter-city DMU, a Siemens design. It also produces hauled coaches and freight wagons of various designs and has a license to assemble metro trainsets to a design by CRRC Changchun Railway Vehicles.
Last year Wagon Pars signed agreements with Transmashholding worth up to US$2·5bn covering the production of up to 350 freight locomotives, 1 000 passenger coaches and 20 000 freight wagons.