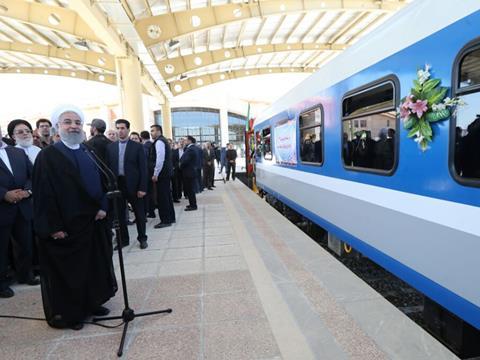 IRAN: The city of Kermanshah was connected to the railway network when President Hassan Rouhani opened a 110 km line from Firuzan on March 20. This forms part of the Malayer – Khosravi corridor which will eventually run to the border with Iraq. The first section from Malayer to Firuzan opened in May 2017, and the remaining 263 km between Kermanshah and Khosravi is being built by China Civil Engineering Construction Corp at a cost of 3·53bn yuan.
On March 21 China National Machinery Industry Corp signed an agreement to build a 132 km line from Hamadan to Sanandaj. This followed the signing on March 7 of a €567m deal for China's Sinconst to build the 250 km Shiraz – Farashband section of the 400 km Shiraz – Bushehr route.
Minister of Roads & Urban Development Abbas Akhundi said other new lines would include Shiraz – Golgohar, Kerman – Bandar Abbas and Kerman – Chabahar.
Construction of the 164 km Qazvin – Rasht line is reported to be 80% complete, and planning is underway for the 162 km Rasht – Astara line, backed by a US$500m loan from Azerbaijan which was agreed in January.
The 97 km Mahabad – Orumiyeh line is scheduled for completion this year, along with the 30 km Yazd – Mehriz line and the 133 km Mianeh – Bastanabad link which will significantly shorten Tehran – Tabriz journey times.
China Civil Engineering Construction Corp has expressed interest in an Iran-Armenian railway project which was approved by the two governments in 2009.
A new train ferry has entered service on Lake Van. The Sultan Alparslan was built at Turkey's Özata Shipyard and has four 125 m tracks giving a capacity of 50 wagons.