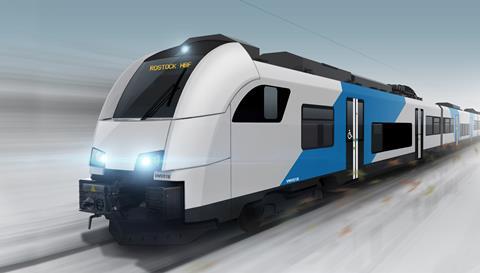 GERMANY: Alpha Trains has ordered seven Siemens Mobility Desiro Mainline electric multiple-units which it will lease to Ostdeutsche Eisenbahn.
The EMUs are to be used on Ostseeküste-Ost regional services RE9 Rostock – Stralsund – Binz/Sassnitz and RE10 Rostock – Stralsund – Züssow, which are being operated by ODEG under a directly-awarded two-year contract with Mecklenburg-Vorpommern transport authority VMV which started on December 15.
ODEG is initially using six Desiro ML Cityjet EMUs hired from Austrian Federal Railways until its new fleet arrives in spring 2020.
To facility this rapidly delivery, the newly-ordered EMUs will initially be supplied from Siemens' Krefeld factory as three-car units. A fourth car will then be added to increase capacity after delivery.
Announcing the order on December 6, ODEG Managing Director Arnulf Schuchmann said the Desiro ML offered 'solid technology', good performance and a 'very well thought-through operating concept in the driving cab'.
ODEG is also seeking to recruit train drivers, either already experienced or looking to qualify.