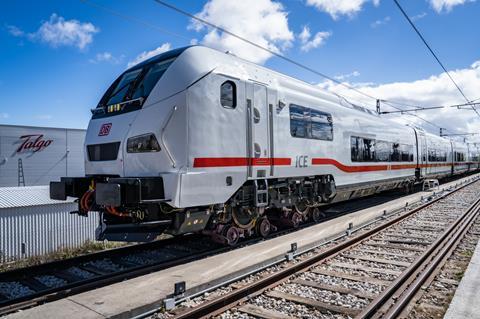 GERMANY: Deutsche Bahn has announced two orders for a total of 73 inter-city trainsets.
The national operator has exercised a €1·4bn option for Talgo to supply a further 56 ICE L trainsets, and a €0·6bn option for 17 more Siemens Mobility ICE3neo sets.
Deliveries are scheduled for 2026-30. Announcing the orders on May 17, DB said the average age of its ICE and Intercity trains would drop from 18 years today to 12 by 2030.
'DB will undergo a comprehensive rejuvenation in the coming years', said Dr Michael Peterson, board member for long-distance passenger transport. 'People want to take the train. With new trains, more comfort and faster connections, we are meeting the boom in demand for environmentally friendly mobility on the rails.'
Dr Volker Wissing, Federal Minister for Digital & Transport, said 'the new trains stand for progress on the rails — fast, digital, accessible. They not only create more much-needed capacity, but also increase quality and comfort for passengers.'
The orders have been placed under existing framework contracts; DB has now placed firm orders for all 90 ICE3neo trainsets available under a 2020 agreement with Siemens Mobility, while 79 ICE L sets have been ordered with options for a further 21 still available under a 2019 agreement with Talgo.
| DB designation | ICE L | ICE3neo |
| --- | --- | --- |
| Manufacturer | Talgo | Siemens Mobility |
| Manufacturer's designation | Talgo 230 | Velaro MS |
| Framework agreement, trainsets | 100 | 90 |
| Firm orders | February 2019 (23) | July 2020 (30) |
| | May 2023 (56) | January 2022 (43) |
| | | May 2023 (17) |
| Maximum speed, km/h | 230 | 320 |
| Formation | loco+17 coaches including driving car | eight cars |
| Seats | 562 | 439 |
| Entry into service from | October 2024 | December 2022 |
ICE3neo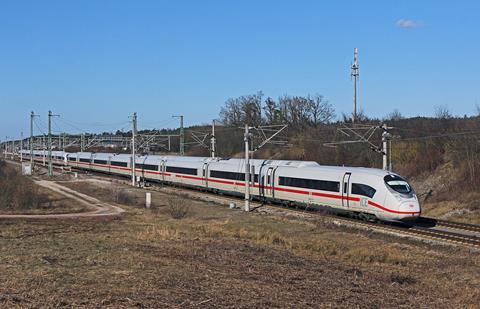 The first ICE3neo sets from Siemens Mobility's Velaro MS family have been in service since December 2022.
They have a maximum speed of 320 km/h and are primarily intended for use on high speed lines, currently operating between Nordrhein-Westfalen, Frankfurt and München, and between Berlin and München.
They are equipped to use four voltages, and in 2024 they will replace what DB called 'failure-prone' trainsets on the routes from Frankfurt to Amsterdam and Brussels.
ICE L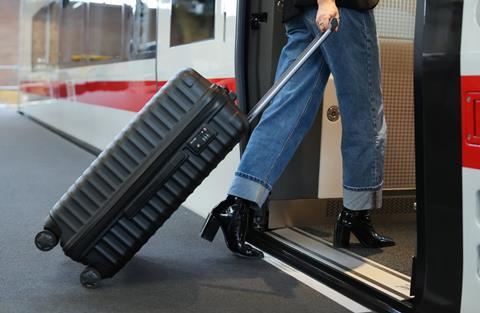 The ICE L is from the Talgo 230 family.
The first 230 km/h ICE L sets to be ordered are under construction for entry into service on the Berlin – Amsterdam route from October 2024. The latest order will enable the type to be used on other routes throughout Germany.
DB said the ICE L would offer an improved sense of space, with shorter carriages, a new lighting concept and new interior design. The push-pull sets will have 17 coaches plus the loco, and according to Talgo will be the only ICE trainsets with platform-height boarding throughout the train.
The Talgo multi-system locomotives will save time on cross-border routes, with the possibility of services running to København and Wien.
The coaches are also compatible with locomotives from other manufacturers, potentially enabling operation on non-electrified lines.
Talgo President Carlos Palacio Oriol said the latest order 'is the largest in the company's history and demonstrates the European operator's confidence in the innovations that our trains will bring to the German market, improving accessibility, comfort, energy efficiency and reliability.'
He said the order is also 'great news for the Spanish railway industry and its technologies, due to the success of consolidating a national benchmark in the most dynamic and demanding long-distance railway market in Europe.'