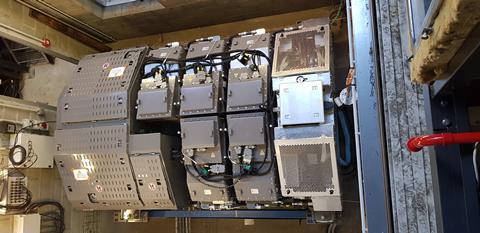 FRANCE: Testing of a Coradia Polyvalent electro-diesel regional trainset fitted with a battery hybrid traction system is to begin early next year and passenger services are planned for 2022, Alstom has announced.
Two of the trainset's four diesel engines are to be replaced by lithium-ion batteries, which will be used to recover and store braking energy for reuse. It is hoped that this will reduce energy consumption and greenhouse gas emissions by 20%, as well as reducing operating and maintenance costs.
The batteries will make it possible to turn the diesel engines off during extended station stops, reducing local emissions, and could also enable trains to continue to run in the event of problems with the overhead electrification.
The €16·6m hybrid train project was launched by Alstom in 2018 in partnership with SNCF and the regions of Centre-Val de Loire, Grand Est, Nouvelle-Aquitaine and Occitanie.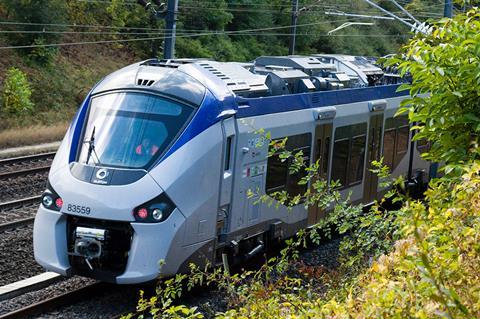 Several months of bench testing of a prototype energy storage system have now been completed at Alstom's traction systems centre in Tarbes, simulating journeys in zero-emission mode using batteries only and in hybrid mode using the engines and batteries.
The tests 'demonstrate that the hybridisation of thermal trains is a technically and economically feasible solution for reducing emissions and costs', said Jean-Baptiste Eyméoud, President of Alstom France, on December 1.
Work is now underway to design and manufacture pre-series energy storage systems which Alstom's Reichshoffen factory will retrofit to an existing Régiolis electro-diesel trainset from the Occitanie regional fleet.
Testing is planned for 2021, ahead of passenger operation on TER services from 2022. This will allow an assessment of performance under real-world conditions, with a view to widespread deployment.
President of the Nouvelle-Aquitaine Region Alain Rousset said the hybrid TER was 'excellent news for our users, for the industry, and for the planet'. Nouvelle-Aquitaine aims to end the use of diesel to power TER trains by 2030, and is currently looking at the use of batteries, hydrogen, biogas and hybrid trains, he said.
More than 300 Coradia Polyvalent trains are currently in operation in France, and SNCF has set out plans to operate its last diesel train in 2035.
'The goal of zero emission transport is a powerful driver for innovation', said Carole Desnost, Director of Research & Innovation at the national operator. 'Rail is already a mode that does not emit much CO2, and it will soon be even better thanks to the hybrid TER.'