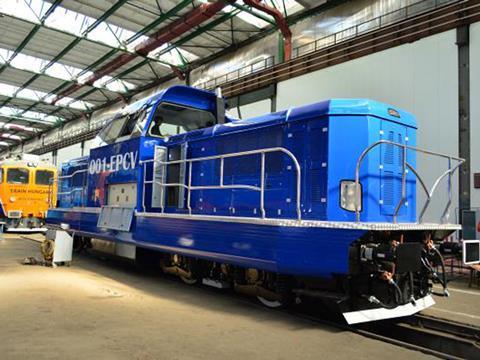 ROMANIA: A 1 260 hp diesel-hydraulic locomotive for shunting and light freight applications has been developed by Grampet Group's Electroputere VFU rolling stock manufacturing and Reloc Craiova refurbishment subsidiaries.
Branded 'Terra Nova', the four-axle locomotive is targeted at export markets. Initial discussions have begun with potential customers, while certification tests are underway. The companies say they have the capacity at Craiova to produce 360 locomotives over 10 years.
Terra Nova is powered by two 630 hp Caterpillar C18 engines, each driving a TR43 hydraulic transmission. It has a top speed of 100 km/h and a maximum tractive effort of 230 kN, and complies with EU Stage IIIB emissions regulations. The central cab is designed to offer a comfortable driving position with good all-round visibility for shunting. The fuel tank has a capacity of 3 000 litres.
According to the manufacturer, the locomotive could be supplied for any gauge from 1 000 mm to 1 600 mm.