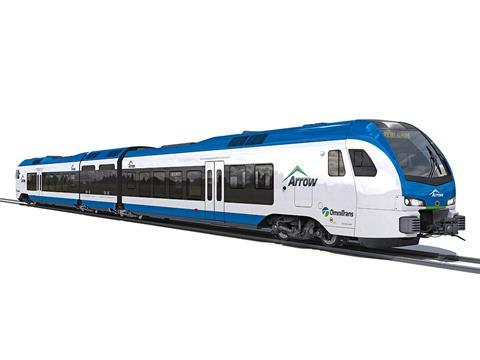 USA: California's San Bernardino County Transportation Authority has issued Stadler with a notice to proceed with the design and supply of three Flirt diesel multiple-units for the Arrow commuter service which is to be launched in 2021 under the Redlands Passenger Rail Project.
The services will use 14 km of former AT&SF line owned by San Bernardino Associated Governments, running from the University of Redlands via three intermediate stations to the San Bernardino Transit Center where they will connect with Metrorail services to and from Los Angeles.
The DMU order is worth $31·4m, and there are options for three more units. The 48·5 m long DMUs will have two passenger sections with a total capacity of 116 seated and 118 standing passengers, and a central module housing the EPA Tier 4 Final compliant diesel traction equipment. The DMUs will be equipped with PTC, and will comply with the Federal Railroad Administration's Alternative Vehicle Technology requirements for mixed operation with freight trains. Arrow services will operate at speeds up to 70 km/h, although the design would be capable of a service speed of 160 km/h.
SBCTA has requested a 'scalable' design, with the option to add an additional passenger car and to convert from diesel to 'zero-emission propulsion technologies as they become appropriately suited for the service'.
Stadler said the order announced on January 18 was its eighth in the USA. The DMUs are to be manufactured at Stadler's new plant in Salt Lake City, meeting federal Buy America requirements.