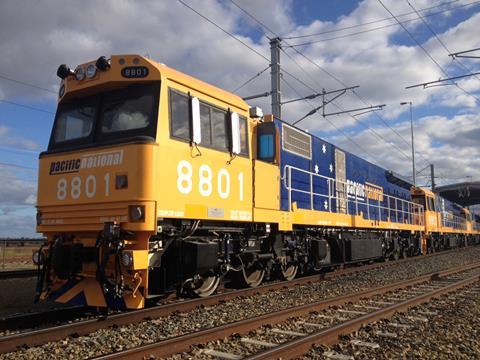 AUSTRALIA: Downer Rail is to provide locomotive maintenance and fleet management services to interstate rail freight operator Pacific National under an A$1bn contract announced on February 4.
Covering more than 300 locomotives, the Locomotive Maintenance Agreement will run for 10 years. According to Downer EDI Ltd Chief Executive Officer Grant Fenn, the company will provide 'a full suite of asset management services', including scheduled and unscheduled maintenance and the operation of a 24 h Fleet Control Centre.
A new asset management regime, including remote monitoring and in-service inspections is expected to improve the availability of the PN fleet, with the locomotives spending more time in traffic while achieving higher levels of reliability.
Fenn said the agreement was 'an important development in Downer Rail's transformation to providing total rail asset solutions to its customers'. The company has scaled back its locomotive and rolling stock manufacturing activities in the face of lower-cost competition from overseas builders, and it is now focusing more on the maintenance market.
PN currently has a total fleet of around 600 diesel locomotives, including more than 100 of 1 067 mm gauge for use in Queensland. Many older units have been stored as the company takes delivery of newer motive power, including five Class 88s supplied by CSR Qishuyan in the second half of 2014 and a current order for EMD GT42-CUACe locomotives designated Class 83.