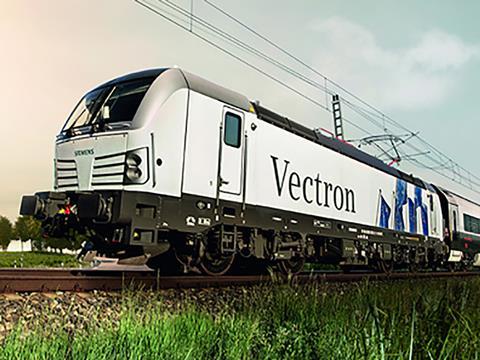 DENMARK: National passenger operators DSB has selected Siemens for a contract to supply 26 electric locomotives for entry into service from 2021, with an option for a further 18. Siemens will have overall responsibility for maintenance for 10 years, and an option for further five years. The decision announced on March 13 is subject to formal government approval.
DSB said Siemens' Vectron family met its requirement for a 'standard' and proven design of 200 km/h locomotive suitable for operation under Denmark's 25 kV 50 Hz electrification as well as 15 kV 16·7 Hz in Germany and Sweden. The tender launched in 2016 requires the locomotives to be supplied with type approval for use in Denmark and Germany, to be suitable for hauling the double-deck coaches used on regional passenger services on Sjaelland, and to be equipped for existing as well as future signalling systems including ETCS.
'The acquisition of new locomotives is an important step towards renewing DSB's aging fleet', said DSB Chief Executive Flemming Jensen, adding that the Vectrons would offer better performance and greater efficiency than the ME diesel and EA electric locomotives which they will replace. Jensen said responsibility for the quality and reliability of the locomotives would be 'unambiguous with Siemens', although as part of the agreement Siemens must use DSB staff and facilities for inspection and maintenance.