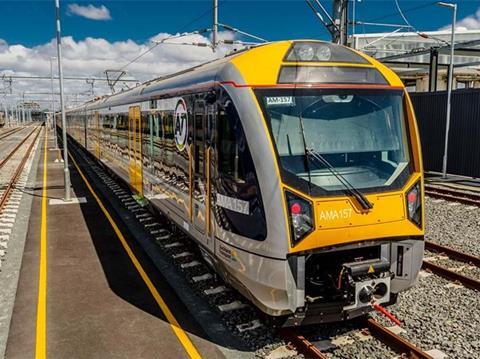 NEW ZEALAND: An order for 17 electric multiple-units equipped with batteries for off-wire operation between Papakura and Pukekohe has been approved in principle by Auckland Council's Finance & Performance Committee.
The units would be supplied by CAF, which has already delivered 57 three-car Class AM 25 kV 50 Hz suburban EMUs to Auckland. Entry into service is planned for 2019, which would 'bring electric trains to Pukekohe over five years earlier than was planned', said Auckland Mayor Phil Goff.
Finalisation of the planned NS$207m order is subject to the New Zealand Transport Agency committing to fund at least 50% of the capital and operational expenditure. Auckland Transport would be required to reprioritise its existing capital budget to provide NS$50m towards the purchase, with an initial payment of between NZ$10m and NZ$25m in September.
'Auckland's growth has been outstripping projections for some time', said Councillor Desley Simpson, Deputy Chair of the Finance & Performance Committee, on July 26. 'Today's decision recognises that by acting to increase the capacity of the rail network as soon as possible, while also ensuring that we continue to operate within our financial limits.'