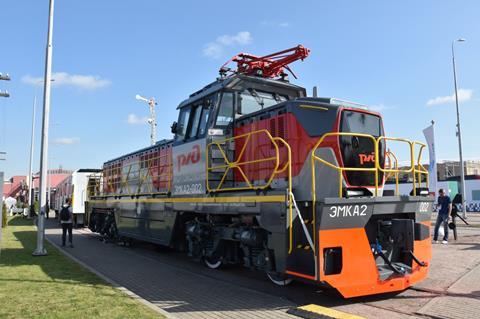 RUSSIA: Transmashholding's Novocherkassk Electric Locomotive Plant unveiled its EMKA2 electric-battery shunting locomotive at the PRO//Dvizhenie.Expo trade fair in St Petersburg, saying more than 90% of the components were designed and manufactured domestically.
The EMKA2 is derived from the TEM23 modular diesel locomotive. It is designed for shunting in depots and at large stations, where the use of diesel engines is undesirable for environmental reasons. It can also be used in industrial shunting applications.
Two prototype lithium-ion batteries able to operate at -40°С were developed by TechnoSpark Group. These can be recharged when operating under 3 kV DC electrification, or from a stationary power source.
The locomotive has a maximum speed of 90 km/h, with a range of 100 km at 65 km/h when running on battery power without a train, or 14 km when hauling a 2 000 tonne train.
Certification for operation is expected by the end of 2023.
TMH also unveiled the Ivolga 4.0 EMU, which has a capacity of 646 passengers and a maximum speed of 160 km/h. The city of Moskva plans to purchase 95 Ivolga EMUs in 2023–25.