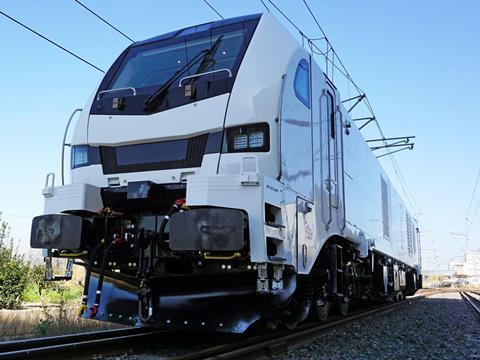 EUROPE: Stadler has announced an order which it describes as 'a landmark event in the European market', with leasing company European Loc Pool becoming the first customer for its 9 MW six-axle TSI-compliant multi-system electric locomotive design.
The 10 locomotives ordered by ELP will be suitable for use in Germany, Austria, Switzerland and Italy, with ETCS and radio remote control fitted as standard. They will be equipped for 15 kV 16·7 Hz, 25 kV 50 Hz and 1·5 kV and 3 kV DC electrification; one or two 900 kW diesel engines can be installed if required.
Confirmed on May 29, this is the second firm order to be placed under a framework agreement for up to 100 locos which was announced on May 20 along with an order for initial 10 Eurodual six-axle electro-diesel locomotives. The two orders will increase ELP's fleet to a total of 30 locomotives.
Stadler said the 'outstanding tractive effort' of its six-axle design would enable a single Co-Co locomotive to replace two Bo-Bo locos on freight corridors, 'substantially' reducing costs for freight operators. 'Innovative bogie technology' would minimise track wear and associated access charges.