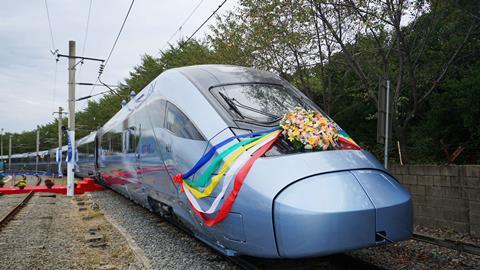 SOUTH KOREA: The first of two pre-series EMU-320 high speed trains being built for Korail by Hyundai Rotem has been unveiled at the manufacturer's Changwon factory, with the second expected to follow in November.
Ordered in 2016 as part of a contract for 19 six-car KTX-EUM sets for 260 km/h operation, the 320 km/h trains are derived from the HEMU-430X prototype. They have distributed traction equipment, rather than separate power cars, which is expected to provide better acceleration and braking performance.
Following testing, the eight-car trains with 515 seats are expected to be deployed on the Gyeongbu high speed line between Seoul and Busan and the Honam line from the capital to Mokpo. The Ministry of Land, Infrastructure & Transport announced in March that 25 production sets would be delivered to Korail from December 2023, with a further 19 being supplied to independent operator SR Corp.
Korail currently operates the 260 km/h KTX-EUM trainsets, which also have distributed traction, on the Gangneung and Yeongdong lines in the northeast, and on the Central Inland and Central lines.