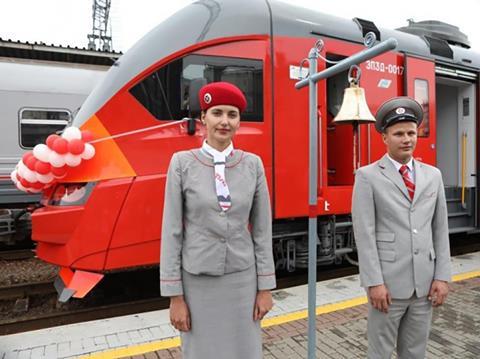 RUSSIA: Russian Railways has put one six-car and two four-car EP3D electric multiple-units supplied by Transmashholding's Demikhovsky Engineering Plant into service on suburban routes around Vladivostok.
The modern EMUs are expected to offer better passenger comfort than the older designs, with lower operating and maintenance costs over their expected 40-year life.
Passengers and crew benefit from enhanced collision protection and an air-disinfecting system. The driving cars have wheelchair lifts, and there is spacious toilet suitable for passengers with reduced mobility.
The EMUs have onboard fire safety equipment, and are designed for the rapid evacuation of passengers in the event of an emergency.
TMH's EP3D design is also in service on RZD's Privolzhskaya and Severo-Kavkazskaya railways, as well as in Kazakhstan.