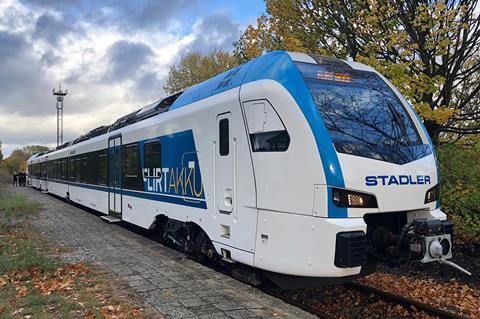 GERMANY: A strategy for widespread adoption of battery-electric trains for local and regional passenger services has been put forward by Germany's Railway Industry Association. With academic input from the technical universities of Berlin and Dresden, the report is presented as a background and position paper intended to inform politicians and other decision-makers.
The report describes Germany's local and regional rail passenger market as 'predestined' for battery-powered trains as it offers 'enormous potential' to reduce CO2 emissions. At the moment there are around 2 000 diesel multiple-units in use on about 450 routes which account for about two-thirds of fossil-fuel usage on the German rail network. About 60% is already electrified, and the federal government aims to increase this to 70% by 2025.
Electrification of the rest of the network would cost at least €21bn and would not be economic, the report suggests, proposing that use of battery-electric trains would be a cost-effective alternative. Batteries could be charged while trains are running under wires or at charging stations built on non-electrified lines.
Up-to-date designs of battery-powered multiple-unit are already available within Germany's rolling stock portfolio, with the option of using energy from regenerative braking for battery charging. While the cost of battery-electric MUs is about 20% to 30% higher than DMUs, the advantages include zero CO2 emissions, faster acceleration and better performance.
In terms of range and the availability of charging points, the report notes that about 80% of all diesel-operated routes start or end on an electrified section, meaning that investment in charging points is often not required. Indeed, many routes could be switched to battery-electric operation without additional investment in infrastructure.
Investment costs for rolling stock and infrastructure will depend on the circumstances of individual routes, and detailed analysis may be required; potential changes to regulations would also need investigation.
If a strategy over and above what is already in the Federal Transport Infrastructure Plan is adopted, further time will be required for planning and implementation. An initiative dating from 2018 already envisages electrification of regional lines, and the report suggests that a fund should be established to pay for around 120 to 150 infrastructure projects over a 10-year period, with priorities and amounts agreed by a dedicated body set up to administer the fund.
This would serve as an incentive to migrate diesel-operated routes to electric traction, and this year the Federal Transport Ministry will make available €227m towards the cost of alternative rail traction methods in its 'ElectrificationPlus' programme.
'Full electrification of the German network is not realistic everywhere ― nor is it essential to achieve emission-free rail travel. Thanks to the use of alternative motive power, electric traction is possible without continuous electrification', said Axel Schuppe, CEO of the German Railway Industry Association.
Prof Dr-Ing Arnd Stephan, Professor for Electric Railways at Dresden Technical University, noted that 'the electric railway is already the world's most environmentally friendly means of transport. With alternative drive technologies such as the battery-electric multiple-unit, it is possible to meet this requirement on diesel routes and to further improve the environmental balance of the rail mode.
Websites
We are not responsible for the content of external sites