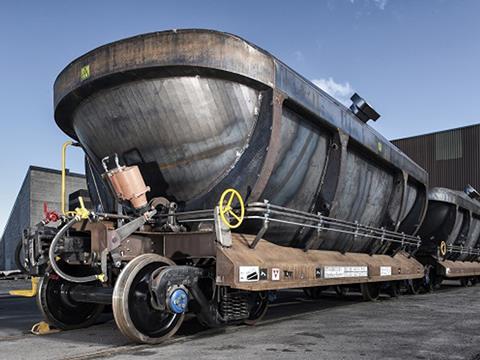 EUROPE: Kiruna Wagon is working with industrial and academic partners to develop a wagon for high axleload freight trains which the Swedish manufacturer believes is 'likely to become a new standard for future European bulk transport'.
The project is being supported by the European Union's Horizon 2020 research programme, as part of a collaboration between nine companies and organisations which aims to modernise the logistics chain at Spanish salt and potash producer Iberpotash.
The new wagon is being developed from Kiruna Wagon's body-turning Turn Dumper design used on 30 tonne axleload routes in Sweden. The project is being undertaken in partnership with high-strength steel supplier SSAB and Luleå University of Technology, which is studying ways to reduce wear during the loading and unloading of bulk materials.
According to Associate Professor Pär Jonsén, 'the project is unique in that it combines industrial expertise in design, construction, materials and logistics with research in advanced modelling, dimensioning, fatigue and abrasion'.