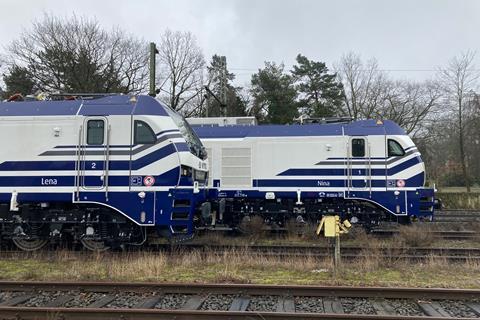 GERMANY: The Retrack freight operating subsidiary of VTG Rail Logistics has taken delivery of two Stadler EuroDual electro-diesel locomotives, ordered under a long-term leasing contract for up to four locomotives which it signed with European Loc Pool last year.
The EuroDual locos are rated at 2·8 MW using diesel power and 6 MW in electric mode, and will enable the operator to increase maximum train tonnage by up to 30% compared with its existing locomotives. The locos are equipped for ETCS Level 2 Baseline 3 and have radio remote controls.
'With the first six-axle hybrid locomotives, we can offer our customers an even more powerful range as well as the latest technological standards in rail logistics', said Retrack Managing Director Remco van Staaijeren on February 11.
100-loco agreement
ELP was founded in 2018 and ordered an initial 10 EuroDual locomotives in Q3 2018.
Since then it has signed a framework agreement with Stadler for up to 100 six-axle hybrid locomotives, placing firm orders for a further 30 EuroDual locomotives and 10 Euro9000 locos in Q2 and Q4 2019 and Q3 2020. Of the 50 locos, eight have now been in use for more than six months with three German customers, and long-term full-service leasing contracts for 32 locos have been signed with 10 operators in four countries.
ELP was the launch customer for the Euro9000 multi-system electro-diesel design, ordering 10 in May 2019. The first version is intended for operation in Germany, Austria, Switzerland, Italy, the Netherlands and Belgium and is to be presented at the next InnoTrans event, with entry into service from the end of 2022.