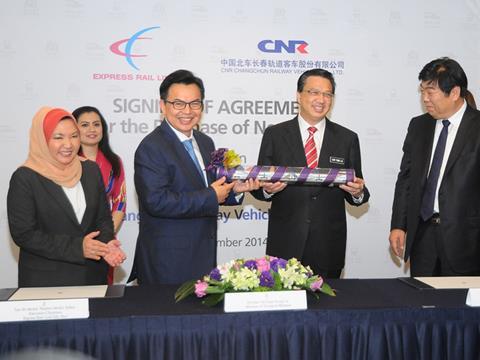 MALAYSIA: Kuala Lumpur airport rail link operator Express Rail Link signed an agreement for CNR Changchun Railway Vehicles to supply six electric multiple-units on November 25. They will provide a 50% increase in capacity on the 57 km line, which recorded 20% growth in ridership during 2013 and has experienced a 40% increase compared to last year since the opening of the KLIA2 terminal for low-cost carriers in May this year.
The four-car 25 kV AC EMUs are scheduled to be delivered from May 2016, with two to be allocated to KLIA Ekspres fast airport services and four to KLIA Transit stopping commuter services. ERL said the articulated 160 km/h units will have aluminium bodyshells and a similar exterior design to the current Siemens trainsets. They will have capacity for 540 passengers, with onboard 'infotainment', wi-fi and wheelchair spaces, as well as improved seats and luggage racks.
ERL said the original decision to build the stand-alone airport line to 1 435 mm gauge rather than the 1 000 mm of the national network gives the operator 'more choice of rolling stock from anywhere in the world'. The airport link operator has been using 'very reliable trains from Germany for the past 12 years of operations, and today we see the clear benefit of choosing an open system as it allows us to also purchase the very best trains from manufacturers in China to run on our tracks.'
The company also pointed out that adoption of standard gauge would allow its alignment to be used as part of the proposed high speed line to Singapore, 'reducing the time and cost to build entirely new tracks for the high speed railway'.