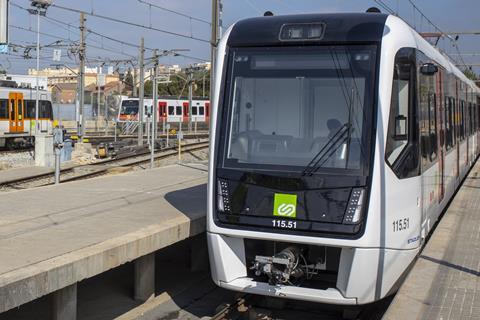 SPAIN: Catalunya operator FGC has unveiled the first of 15 four-car Class 115 electric multiple-units which are being supplied from Stadler's Valencia plant for use on its 1 435 mm gauge Metro del Vallès network linking Barcelona-Plaça Catalunya with Terrassa and Sabadell-Parc del Nord.
FGC called tenders for the fleet in May 2017, with bids submitted by a consortium of Alstom and CAF (€109m), Talgo (€96·8m) and Stadler (€99·5m). Stadler's bid scored 94·78 points, compared to Talgo's 92·07 and Alstom/CAF's 86·28, and the contract was signed on July 17 2018.
Deliveries were originally scheduled to occur between August 2020 and August 2021, but the Covid-19 pandemic led to this being changed to February 2021 to March 2022. The first EMU arrived at FGC's Rubí depot on April 29, and will now undergo testing ahead of the delivery of the remaining EMUs at a rate of two per month.
Symmetrical halves
The four-car 1·5 kV DC EMUs are formed of two symmetrical halves to provide redundancy of the main operating systems, with the outer cars of each half being powered. The units have aluminium bodyshells and are 80 780 mm long and 3 977 mm high, and can negotiate curves down to a minimum radius of 60 m.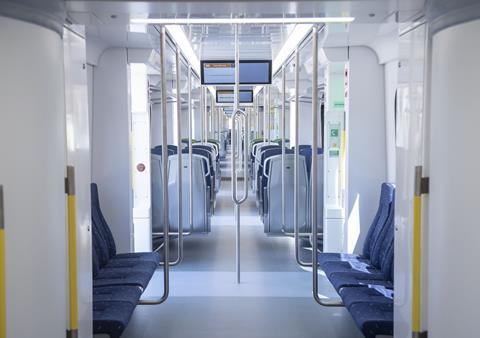 Like the rest of FGC's 1 435 mm gauge fleet they are designed for a service speed of 90 km/h.
Each unit has 196 seats with USB sockets and a total capacity of 774 passengers, at a crush density of six per m2. There are wide gangways, with a multi-purpose area for wheelchairs, prams and bikes in the vestibule behind each cab. LED lighting is fitted.
The cars have three pairs of double leaf doors supplied by Masats, which are 1 300 mm wide with an entrance height of 1 060 mm. The manufacturer said the cab doors have a mechanism that closes and locks the door upwards to provide soundproofing and thermal insulation for driver comfort.
Service increase
The new units will take FGC's Metro de Vallès fleet to 61 units, enabling it to provide 2½ min headways between Barcelona and Sant Cugat, with 5 min headways to both Terrassa and Sabadell during the peaks.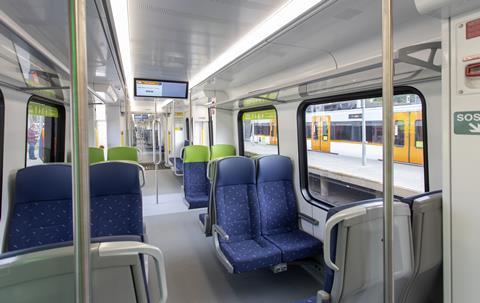 To support the increased frequencies FGC is taking on 100 new drivers and 100 station and depot staff. Rubí depot has also been refurbished.
The new trains form part of a €1·0bn, 10-year modernisation programme at FGC which includes extension of the metre gauge Moli Nou – Barcelona-Plaça d'Espanya Line 8 from Plaça d'Espanya to Gràcia in the city centre.