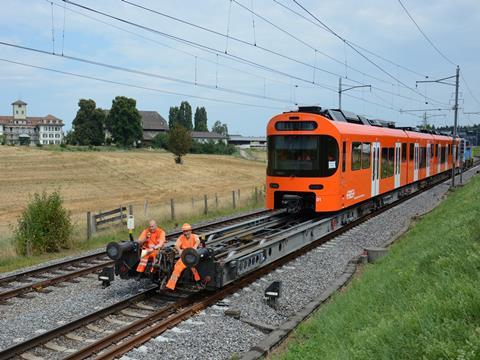 SWITZERLAND: Metre-gauge inter-urban operator Regionalverkehr Bern-Solothurn took delivery of the first of 14 Worbla EMUs at its Worblaufen depot north of Bern on August 7. RBS ordered the trains from Stadler in May 2016 under a contract worth SFr134m including spares. The highly customised design was influenced by ideas crowd-sourced from passengers travelling on the route.
Each four-car air-conditioned trainset is 60 m long with six double-leaf doors per side and large standing areas to accelerate boarding and alighting. Passenger capacity is 104 seated and 360 standing. The 1·25 kV DC EMUs have a maximum speed of 100 km/h and each vehicle has a low-floor section for access by people with reduced mobility.
Being assembled at Stadler's Bussnang works, the trains are expected to enter traffic on the 15 km S-Bahn route S7 linking Bern with Bolligen and Worb-Dorf from December. All are expected to be in service by the end of 2020, replacing the 'Mandarinli' fleet dating from the mid-1970s.