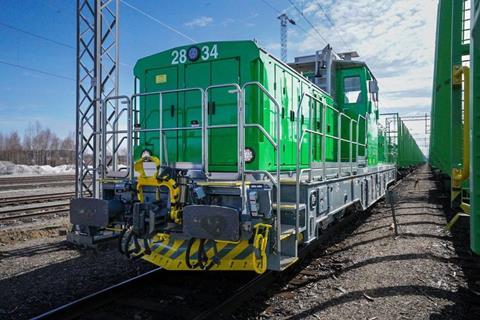 FINLAND: The first of 60 Class Dr19 diesel locomotives being supplied by Stadler has entered revenue service with national operator VR, hauling round wood from Kemi to Kolari on May 3.
In April 2019 VR awarded Stadler a €220m contract to supply 60 of the centre-cab diesel locos, with options for 100 more. The first was delivered from the manufacturer's Valencia factory for testing in February 2022, and five have now arrived.
Deliveries are scheduled to be completed by the end of 2026, enabling the replacement of locos up to 60 years old. Slightly more than half the Finnish network is electrified, meaning there is still a need for self-powered locomotives, and VR's Vice-President Train Operations & Safety Ilkka Heiskanen said the new locos would be approximately twice as efficient as older types.
'The new locomotive has several climate-friendly features, and in particular its fine particle emissions are only a fraction compared to our old diesel fleet', he said.
The 18 m long, 88 tonne locos with a maximum speed of 120 km/h have been custom designed to VR's requirements, including Finalnd's 1 524 mm gauge and temperatures down to -40ºC. They will mainly be used on freight traffic, enabling the operation of heavier trains, but can also be used for local passenger services.
Teltronic supplied TETRA voice and data radios, and Hitachi Rail STS the ETCS and JKV national train control systems.
The locos are to be maintained by VR FleetCare under an agreement running for 10 years from 2023.
Eljas Koistinen, Senior Vice-President of VR's Transpoint freight business, said the locos are designed so that the diesel engine can in the future be replaced with a more climate-friendly energy source 'once sufficiently competitive and reliable alternatives are available on the market'.