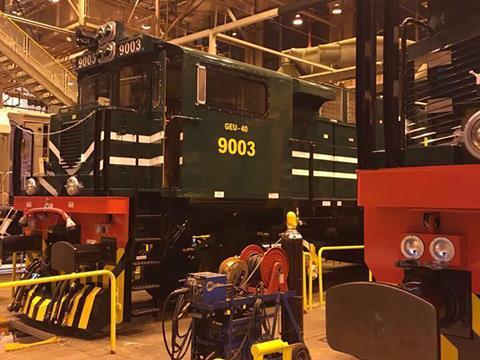 PAKISTAN: The first of 55 Evolution Series ES43ACi diesel locomotives which GE Transportation is building for Pakistan Railways is undergoing final testing ahead of delivery from the USA.
The 1 676 mm gauge Class GEU-40 locomotives are to be supplied fully assembled. Pakistan Railways expects to commission the first locomotive by January 2017, and deliveries are scheduled to run until mid-2017. Corys has been awarded a contract to supply a full-scope simulator for driver training.
The first contract for the supply of Evolution Series locomotives to South Asia was signed by Pakistan Railways on June 20 2015. Minister of Railways Khawaja Saad Rafique said 40 of the GE locomotives would be used to haul imported coal from Karachi to the Sahiwal and Jamshoro power stations, and 15 would be used on general freight services.
The ES43ACi has a 12-cylinder 4 563 hp GEVO12 engine, and to cope with the harsh operating conditions in Pakistan the design features additional cooling capacity and an air-conditioned cab suitable for bidirectional operation. The 137 tonne six-axle locomotives are designed for a maximum speed of 120 km/h, and are expected to provide better fuel efficiency and longer maintenance intervals than Pakistan Railways' current fleet.