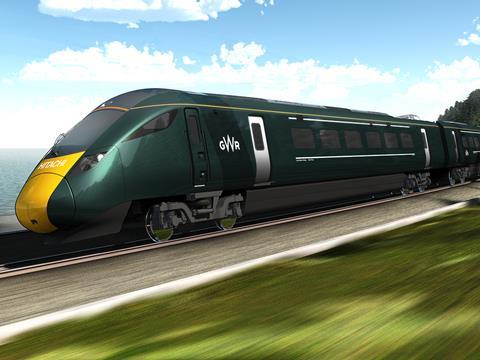 UK: Operator First Great Western and leasing company Eversholt Rail formally signed a £361m contract to procure and finance 22 five-car and seven nine-car Hitachi AT300 inter-city trainsets on July 30.
The signing follows government approval for the order, which was proposed by FGW as part of its new direct-award franchise announced on March 23. This runs to April 2019, with an option for a further 13-month extension.
Hitachi Rail Europe Chief Operating Officer Andy Barr said the AT300s would be built in Japan, with Hitachi's new plant at Newton Aycliffe in northern England concentrating on the Class 800/801 Super Express Train fleets ordered under the Department for Transport's Intercity Express Programme and EMUs for the Abellio ScotRail franchise. However, 'key components for the West of England fleet will still be provided by the UK supply chain', he added.
Deliveries to FGW are scheduled to begin in May 2018, with the full fleet in passenger service from December 2018. Barr said Hitachi is 'still working with the operator to devise the best solution' for maintenance, although it is intended that the AT300s would be maintained alongside the Class 800 IEP sets.
The first AT300s are expected to enter service in summer 2018, primarily on the route from London Paddington to Plymouth and Penzance. They will operate under 25 kV 50 Hz electrification as far as Newbury, and on diesel power beyond. The five-car sets will be able to work in pairs.
Hitachi said the AT300 would be 'closely related' to the Class 800 trainsets, but will have larger fuel tanks for the longer journeys in diesel mode. They 'will utilise high engine operating power' to handle gradients in Devon and Cornwall, although 'mechanically they are the same as the Class 800s', according to Barr.
The Department for Transport said the trains would be 'more powerful, greener and more efficient' than the IC125 High Speed Train sets they will replace, with 'up to 24% more seats compared to the majority of the trains serving the route today'. Their introduction would cut journey times from London to Exeter by 5 min, Plymouth by 6 min and Penzance by up to 14 min.
'We warmly welcome the announcement today that our recommendations to introduce a new fleet of trains to serve customers between Devon and Cornwall and London have been approved by the Department for Transport', said First Great Western Deputy Managing Director Andrew Mellors. 'These trains will help us deliver faster, more frequent services into the South West, and create an additional 1 000 peak-time seats a day for customers on the route.'
Eversholt Rail CEO Mary Kenny said the order was a 'very exciting opportunity' for the leasing company, which would 'continue to grow our fleet and our relationship with First Great Western' and build the successful introduction of the Hitachi Class 395 fleet on High Speed 1.