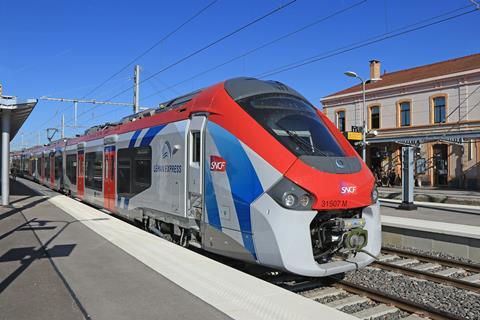 FRANCE: The first of 17 three-system Régiolis EMUs being supplied by Alstom to operate SNCF's share of the Léman Express RER network in Genève entered service on September 4, operating regional trains between Annemasse and Evian-les-Bains.
Delivery of the electric multiple-units began in July, and driver training began in mid-August ahead of the scheduled launch of the cross-border LEX network with the December timetable change. Trial running is also underway on the Annemasse – St-Julien-Bellegarde route.
Focused on the new link between Genève Cornavin and Annemasse via Eaux-Vives, the Léman Express network will comprise six routes totalling 230 route-km, radiating up to 60 km from the Swiss city to serve 45 stations, of which more than half will be in France.
The Régiolis EMUs are intended to operate lines 1 and 3 from Coppet through Genève and Annemasse to Evian-les-Bains and Saint-Gervais-les-Bains, while SBB's dual-system Stadler Flirt units will operate Line 2 from Coppet to La Roche-sur-Foron and Annecy. Regional Express services from Vevey to Genève operated by SBB's double-deck Stadler KISS EMUs will also be extended to Annemasse.