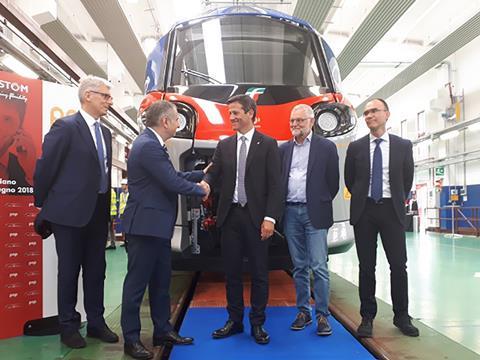 ITALY: The first Alstom Coradia Stream electric multiple-unit for Trenitalia is to undergo testing at the Velim circuit in the Czech Republic this month, following its unveiling at the manufacturer's Savigliano factory.
The 160 km/h single-deck 3 kV DC regional EMUs are branded Pop by Trenitalia, which names its regional train families after musical genres.
A framework agreement for up to 150 units worth €900m was signed in August 2016, with firm orders then being placed as Trenitalia agrees operating contracts with regional authorities. The EMUs are available in three-car and four-car variants, and the interiors can be configured in different ways to meet local requirements.
Orders have been placed for units to be used in the Emilia–Romagna, Puglia, Veneto, Piemonte, Liguria, Abruzzo and Marche regions as well as in Sicily, with the first scheduled to enter service in spring 2019.
'We are revolutionising the life of Italian commuters with a €4·5bn investment in new trains', said Trenitalia CEO Orazio Iacono at the unveiling of the first unit on June 26. 'Pop has been designed around the needs of Trenitalia's commuters and staff: more convenient, more sustainable and more accessible for everyone'.