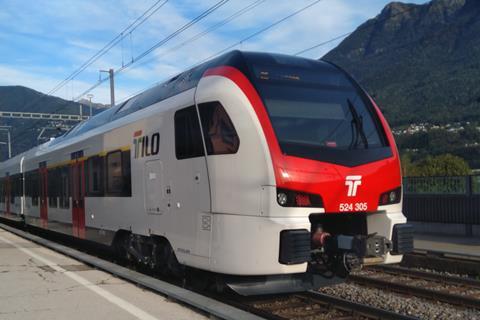 SWITZERLAND: The first of five Stadler Flirt 3 electric multiple-units ordered by Swiss Federal Railways to work TILO cross-border services began running in Switzerland on September 29.
Designated as Class RABe 524/3, the five six-car EMUs were ordered in 2017 to work local services linking the southern Swiss canton of Ticino with Lombardia in northern Italy.
They are all expected to enter revenue service in time for the December 2020 timetable change, working Bellinzona – Cadenazzo – Lugano local trains through the Ceneri Base Tunnel.
In 2018 Italy's FNM ordered nine matching six-car Flirt 3s as part of Trenord's contribution to the TILO fleet. The first of these units is due for delivery in November.
Equipped to operate on 3 kV DC and 15 kV 16·7 Hz, the Flirt 3s have been certified for operation in both Italy and Switzerland.
The 105 m long articulated low-floor trainsets are able to operate at up to 160 km/h, and can carry a crush load of 655 passengers, including 244 seated. As well as LED interior lighting, other improvements on the earlier Flirt variants include at-seat charger sockets, an improved passenger information displays and a passenger counting system.
SBB has also ordered 14 four-car Flirt 3 EMUs from Stadler for 15 kV 16·7 Hz operation on RER services in canton Vaud. These are expected to enter service during 2021.