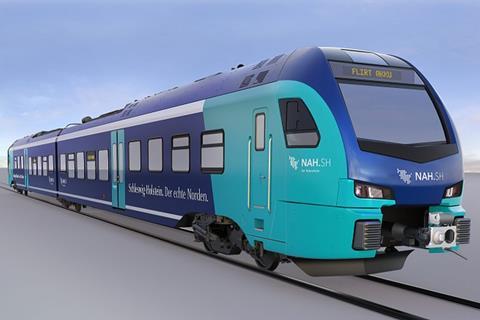 GERMANY: Financing has been put in place for a €600m order for 55 Flirt Akku battery multiple-units which Stadler is to deliver between the end of 2022 and mid-2024 for use in the north of Germany.
In April Paribus Group won Schleswig-Holstein transport agency NAH.SH's XMU II tender to a supply fleet of zero-emission vehicles for use on non-electrified regional routes, following a procurement process which left the choice of technology to the bidders.
A financing package has now been finalised, with bond financing provided by Allianz Global Investors and Société Générale also involved.
Paribus Group's leasing company Northrail will support the project over the entire 30-year contract period running to 2052, beginning with monitoring of the manufacturing process and supervising construction of maintenance facilities in Rendsburg and Neumünster before taking responsibility for asset management.
'We are delighted that we can help shape a unique project', said Dr Volker Simmering, managing partner in the Paribus Group, on August 17. 'By purchasing and leasing trains equipped with innovative technology, we are making a contribution to making rail transport even more environmentally friendly and attractive.'
The Flirt Akku multiple-units are to be used on the Kiel – Lübeck – Lüneburg, Bad Oldesloe – Neumünster – Heide – Büsum, Kiel – Husum, Husum – Bad St Peter Ording, Kiel – Rendsburg-Seemühlen and Kiel – Eckernförde – Flensburg routes.
They will primarily replace diesel vehicles, and will enable through services from electric routes. The batteries will be charged from the existing 15 kV 16·7 Hz overhead electrification at stations and will give a maximum range of 150 km, although the longest non-electrified route where they will operate is around 80 km.
The two-car units will have 124 seats and total capacity of 198 passengers. There will be two multi-purpose areas for wheelchairs, pushchairs and bicycles, as well as an accessible toilet. Other features will include air-conditioning, wi-fi, power sockets, CCTV and a passenger information system.