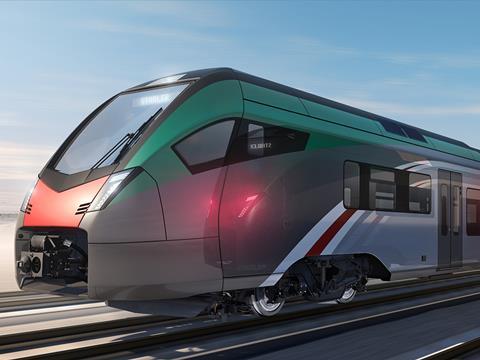 ITALY: A framework agreement for Stadler to supply Lombardia regional operator FNM with between 30 and 50 battery-equipped 140 km/h diesel multiple-units for use on Ferrovienord services was signed in Milano on November 21.
The agreement runs for eight years with a value of €6·395m per unit, and envisages the provision of scheduled maintenance as well as vandalism and accident repairs. There is a €192m firm order for an initial 30 units to be delivered from 2021.
Each unit will have three passenger cars and a power module housing two Stage V compliant diesel engines with SCR catalytic converters powering two sets of batteries. This will enable zero-emission and low-noise operation at stations as well as reducing emissions in urban areas, and will provide 20% faster acceleration which is expected to be beneficial on routes with frequent stops.
Energy recovery is expected to bring a 30% reduction in fuel consumption compared to the existing fleet, saving €3m/year and lowering CO2 emissions by 12 400 tonnes/year. The use of a separate power module will also reduce noise and vibrations in the passenger areas compared to underfloor-engined DMUs.
Stadler has worked with Giugiaro Architettura and Nose Design Experience to develop the units. They will be 66·8 m long with 168 seats and a total capacity of 328 passengers. They will be fitted with a toilet, LED lighting, wi-fi, 220 V sockets, USB ports, a passenger information system, CCTV, cycle spaces, door opening and closing lights and sliding gap fillers between the train and platform.
'The particularly innovative specifications of these diesel-electric trains will ensure quality and performance standards among the best in Europe', said FNM Chairman Andrea Gibelli.
In September FNM and Hitachi Rail Italy signed an eight-year framework agreement for the supply of between 50 and 120 high-capacity double-deck EMUs, with a firm order for an initial 30.