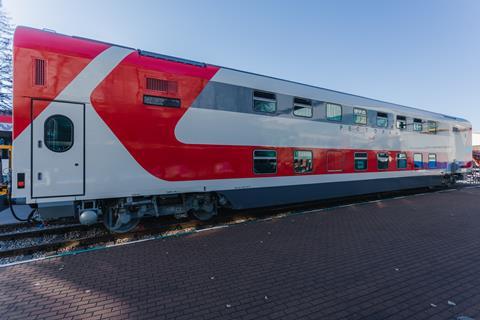 RUSSIA: Transmashholding's Tver plant is to produce a pilot batch of 50 double-deck dining cars for Federal Passenger Co.
The Type 61-4525 restaurant cars are intended to complement the Type 61-4523 and 61-4524 double-deck coaches used by the national long-distance passenger operator.
TMH's first double-deck restaurant car was the Type 61-4473 produced 2013, which featured food lifts and convection heaters for faster food turnaround. The latest design is intended to provide more interior space, and the vehicles will be fitted with air suspensions to give a smoother ride.
The lower floor will contain the kitchen, with a 3 000 litre fridge and a 700 litre freezer, as well as a four-person bar. The upper floor will have a dining area with 36 seats, connected to the kitchen by a food lift.
Each vehicle will have two controlled emission toilets, a shower and a waste disposal station, as well as luggage racks and a shelf for oversized baggage.