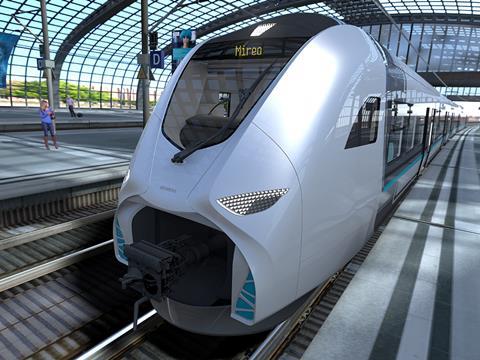 GERMANY: Siemens and Canadian fuel cell technology company Ballard Power Systems have signed an agreement to develop a 200 kW fuel cell suitable for powering Mireo electric multiple-units. The initial deployment of a fuel cell powered trainset is planned for 2021.
'Our co-operation with Ballard is a decisive step towards replacing diesel-powered rail vehicles with emissions-free vehicles in the long term interests of sustainable and climate-friendly mobility', said Siemens Mobility Division CEO Sabrina Soussan on November 14. 'We want to be able to offer our customers flexible train solutions for various suburban routes, which vary according to regional conditions and technical possibilities.'
The development agreement is worth around C$9m to Ballard, which according to President & CEO Randy MacEwen is seeing growing market demand for fuel cells for heavy-duty motive applications such as trains, trams, buses and lorries. 'This development agreement with Siemens, a major industrial conglomerate and leading global train OEM, is a testament to the overall value proposition offered by Ballard's fuel cell technology in a demanding use case and duty cycle', he said. 'In this application, fuel cells enable electrification with range, without the need for costly catenary wire infrastructure.'
Siemens announced the Mireo multiple-unit platform at InnoTrans 2016, and DB Regio placed the first order in early 2017. A lighter and more energy-efficient successor to the Desiro Main Line family, the 160 km/h units are aimed at a similar market to the Stadler Flirt, Alstom Coradia Continental, Bombardier Talent 2 and CAF Civity.