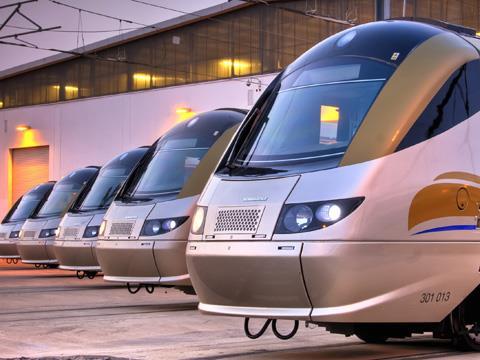 SOUTH AFRICA: Gautrain Management Agency is planning to obtain second-hand rolling stock from the UK. This follows an abortive tender called in February 2016 for a fleet of 12 new four-car trainsets. Despite three bidders being shortlisted, none of the bids was compliant.
After evaluating its options, GMA decided in May this year not to reissue the tender for new rolling stock, choosing instead to acquire fewer second-hand trains at lower cost, reportedly around R2bn compared with R4∙5bn.
Trains from the UK would match Gautrain's requirements as the existing fleet is built to the UK loading gauge and is derived from Bombardier's Electrostar design; 24 four-car EMUs were delivered from 2008 onwards, with some being assembled in South Africa. As large numbers of new trains are on order or are currently being delivered for use by UK franchises, suitable rolling stock may shortly come off lease, potentially becoming available for sale or lease to the South African operator.
CEO Jack van der Merwe said that GMA had identified three UK leasing companies that may be able to supply suitable rolling stock. Once GMA had obtained approval from the South African government for its plans, the leasing companies would be invited to submit bids in a closed tender process. GMA hopes that the trains could be refurbished and refitted using local labour and materials, with the first trains ready to run by 2022.
Gautrain operates an 80 km Y-shaped network linking Pretoria with Johannesburg and OR Tambo International Airport. The future fleet would mainly be diagrammed to operate the airport service, with the EMUs currently deployed there being switched to the busy north-south route between Johannesburg and Pretoria.
Gautrain routes are built to 1 435mm gauge and are electrified at 25 kV 50 Hz. Additional stock is needed to cope with heavy demand during the morning and evening peak hours, but Gautrain has recently revised its forecasts down so that only 30 new cars are required.
Gautrain services operate as part of a 20-year PPP concession awarded to the Bombela consortium in 2006. When this comes up for renewal in 2026, there may be an opportunity to obtain further additional trains, possibly in combination with a recapitalisation.