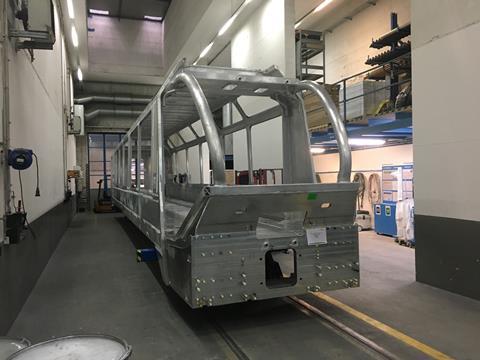 SWITZERLAND: Construction of the first bodyshell for the dual-gauge rolling stock ordered for through services between Montreux and Interlaken Ost has been completed, and the vehicle is now being fitted out at Stadler's Bussnang factory.
The trains will operate on the metre-gauge tracks of the Montreux-Oberland Bahn between Montreux and Zweisimmen and on 1 435 mm gauge tracks owned by BLS between Zweisimmen and Interlaken Ost.
The first car will be delivered in 'spring' 2020, with the first full set complete 'in early summer'. This will allow several months for trials and staff training before the first trainset enters commercial service under the GoldenPass Express brand in December 2020.
The fleet of 19 panoramic cars designed by Pininfarina will be formed into four sets, one of which will be held in reserve or rotated for maintenance. Three sets are needed to operate the planned timetable of four trains a day in each direction with a journey time of 3 h 10 min. Three of the new cars will be available as spares.
Each set will have a driving trailer at each end, with four of the eight end cars featuring premium class seating in a saloon offering a view through an end window.
Bodyshells are manufactured using laser-welded extruded aluminium profiles, and all cars will be mounted on dual-gauge bogies supplied by Alstom under a SFr13m contract.
Panoramic view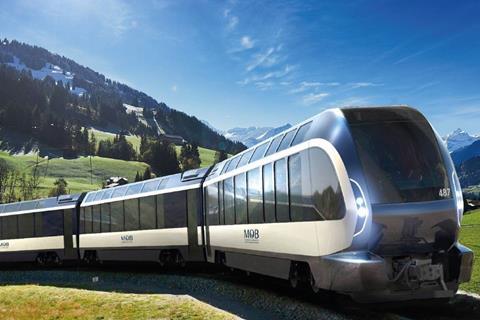 The cars will have air-conditioning and power sockets, but the main design feature is the panoramic view through large side windows and at cantrail level, perpetuating a tradition that MOB began in 1976. In the Pininfarina-designed cars the windows are designed to avoid reflections appearing in photographs taken by passengers.
The definitive seating configuration has yet to be finalised, but passengers will be able to rotate the seats in premium class saloons. There will be no separate catering vehicle as staff will serve food and beverages to passengers at their seats.
The new fleet will be matched with four refurbished cars that were originally supplied to MOB by Raility AG. Pininfarina has not been involved directly in their refurbishment.
Gauge changing
It has not proved possible to develop power bogies able to overcome the 435 mm gauge difference. Motive power will therefore be provided on the MOB part of the route by Series 8000 locos sets drawing power at 900 V DC and on the 15 kV 16∙7 Hz BLS section by a Class 465 locomotive with an 'interface car'. The driving trailers at opposite ends of each set are equipped with different signalling equipment: Type ZSI127 signalling for operation on the MOB route and the ZUB system for the BLS section.
Two dual-gauge tracks with a commutable power supply have been provided at Zweisimmen with the gauge-changing equipment installed at the MOB end of the platforms.
Beautiful and elegant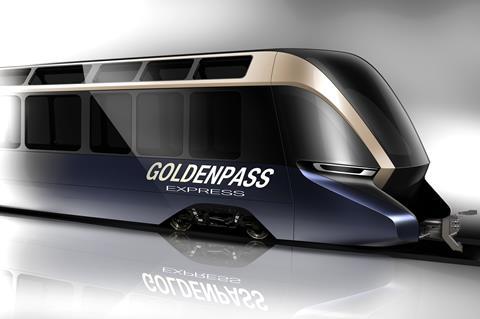 MOB's General Manager Georges Oberson says that 'with the Goldenpass Express we are facing a spectacular technological challenge, shifting from narrow gauge to standard gauge. We also wanted this tourist train to be beautiful and elegant. That's why we assigned the task to Pininfarina, one of the most prestigious design companies in the world.'
The trains had to comply with the latest Swiss safety standards, and Alfredo Palma, Pininfarina's Design Project Manager, feels that this was 'a stimulus to our creativity, rather than a limitation. With MOB we have created a train that offers an immersive travel experience, in total symbiosis with the beauty of the surrounding nature.'
In 1993 Pininfarina designed rolling stock for MOB's Cristal Panoramic Express; the design house has also styled rolling stock for the Glacier Express, now operated by Matterhorn Gotthard Bahn and Rhätische Bahn.
Details of Pininfarina-designed cars for GoldenPass Express services
Car body length mm
18 750
Car body height mm
3 840
Car body width mm
2 644
Bogie wheelbase mm
1 500
Mass (tare) tonnes
27