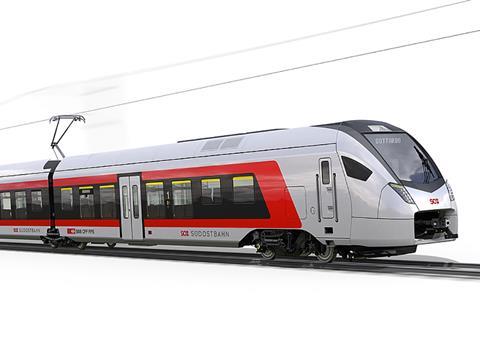 SWITZERLAND: Schweizerische Südostbahn has ordered 11 Stadler Flirt electric multiple-units for use on services from Basel and Zürich to Locarno and Lugano operating via the traditional Gotthard main line, now branded the Gotthard Panoramic route following the opening in 2016 of the base tunnel.
SOB and SBB finalised a co-operation agreement in July 2017 which will see SOB take over the operation and marketing of Gotthard Panoramic services from December 2020, using its own rolling stock. These will be co-branded as SOB-SBB, with SOB being paid a fee by SBB.
The EMU order announced on December 21 has been placed as an option on a SFr170m contract signed in June 2016 for Stadler to supply 11 EMUs for use on St Gallen – Luzern Voralpen-Express services from December 2019. SOB said the 'high quality' long-distance EMUs for Gotthard Panoramic services would feature upgraded first class with 2+1 seating, as well as catering and family zones.
SOB and SBB also plan to co-operate on Bern – Olten – Zürich – Pfäffikon – Sargans – Chur services from the end of 2021. Details are expected to be finalised by mid-2018, when a further rolling stock order would be placed.