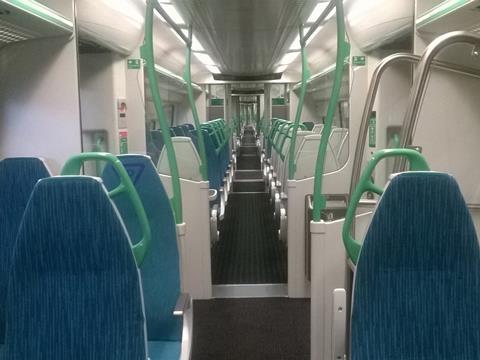 UK: Passenger franchisee Govia Thameslink Railway announced on November 18 that it had signed a £145·2m order for 27 four-car Bombardier Electrostar Class 387/2 electric multiple-units for use on Gatwick Express services.
The EMUs are scheduled to enter service between London Victoria and Gatwick Airport in 2016, with some services continuing to Brighton off-peak. The Electrostars will replace 1980s-built Class 442 units which have operated Gatwick Express services since 2008, and according to GTR will be 'specially designed for the rail-air route with easier boarding, better luggage space, 2+2 seating and wi-fi.'
The contract is a follow-on to a previous order for 116 Class 387/1 cars which Govia company Southern placed in July 2013. These were ordered on behalf of the Department for Transport, for interim use by GTR on the Thameslink route between Bedford, London and Brighton from December 2014 until 2016 when the new Siemens Class 700 Desiro City fleet is expected to be in service. By May 2015 'virtually every train' on the Thameslink Bedford – Brighton service group will be an Electrostar according to GTR, enabling the current fleet of Class 319 EMUs to be redeployed elsewhere in the country as part of DfT's electrification programme.
GTR said the Class 387/1 and 387/2 fleets represent a rolling stock investment of £317m, financed by Porterbrook Leasing.