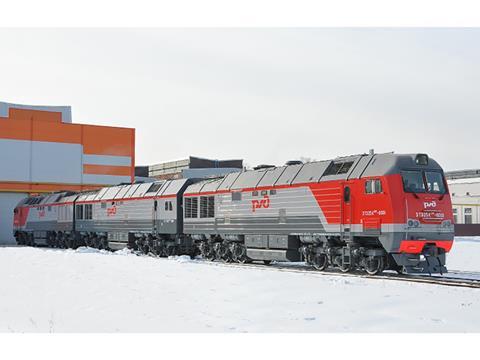 RUSSIA: Transmashholding's Bryansk Engineering Plant has rolled out its first 3TE25K2M diesel locomotive, a three-section design developed from the twin-section 2TE25K Peresvet.
Designed to haul 7 100 tonne freight trains on the 2 800 km Baikal-Amur Magistral route between Taksimo, Tynda, Komsomolsk-na-Amure and Sovetskaya Gavan on the Pacific coast, the 9·3 MW locomotive has three six-axle sections with microprocessor controls and AC traction motors.
Initial testing is to be undertaken at Kurbakinskaya in Kursk oblast before the locomotive is transferred to the BAM route.
Meanwhile, testing of Ural Locomotives' 2ES7 twin-section 8·8 MW electric locomotive has been completed on the BAM line, where it it has hauled more than 30 heavy freight trains of 6 000 tonnes between Tayshet and Taksimo since November. The 2ES7 design will replace three-section 3ES5K Yermak locomotives rated at 9·8 MW, reducing power consumption by 25%, while the tests showed that the maximum train weight could be increased to offer a 12% reduction in operating costs.