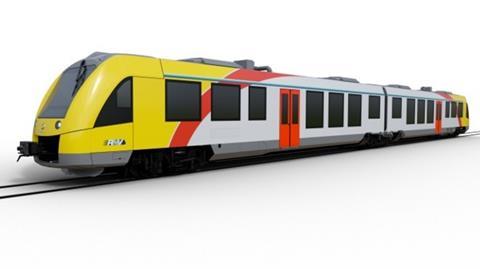 GERMANY: Hessische Landesbahn has placed a €120m firm order for Alstom to supply 30 two-car Coradia Lint 41 regional diesel multiple-units for use on Wetterau West-Ost services from 2022.
These will be the first Coradia Lint 41 DMUs to be equipped with diesel engines meeting European Stage V emission standards.
Alstom said the 140 km/h DMUs to be supplied from its Salzgitter plant would have 'spacious and bright' interiors with large windows, 120 seats, two multi-purpose areas for wheelchairs, prams and bicycles and an accessible toilet. They will have passenger wi-fi, at-seat power sockets, a real-time passenger information system and CCTV.
The DMUs will be used on services RB46 Gießen – Gelnhausen, RB47 Wölfersheim-Södel – Friedberg – Frankfurt and RB48 Nidda – Friedberg – Frankfurt which HLB will operate for 10 years from December 11 2022 under a contract awarded by Rhein-Main transport authority RMV.
They would also be used on the Lumdatalbahn between Lollar and Rabenau-Londorf and the Horlofftalbahn between Wölfersheim-Södel and Hungen should proposed reopenings go ahead.
'We have been using Coradia Lint vehicles successfully on our networks for many years', said Hessische Landesbahn Managing Director Veit Salzmann when the contract was announced on March 30. He said the operator valued continuity in working with Alstom, and added that the supplier had delivered previous projects 'punctually and completely'.