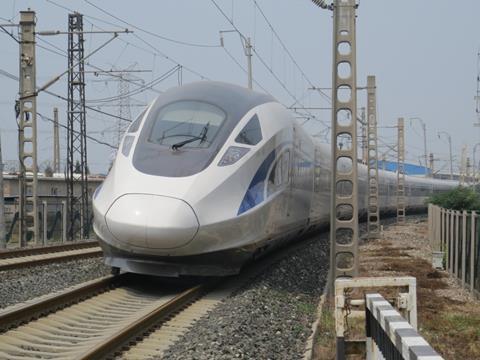 CHINA: China Railway Corp has awarded Bombardier Sifang (Qingdao) Transportation a 2·2bn yuan contract to supply 10 CR400AF high speed trainsets within three months.
The contract for five eight-car and five 16-car 350 km/h trainsets was awarded to the 50:50 joint venture of Bombardier Transportation and CRRC Sifang at the end of September, with deliveries scheduled to run from October to the end of the year. Announcing the order on October 1, Bombardier Transportation said delivery within three months 'reflects the confidence the customer has in BST's high efficiency and competitiveness.'
The CRH400AF was developed by CRRC Qingdao Sifang under the name Blue Dolphin as part of the government-backed China Standard EMU programme. This saw three manufacturers lead the development of three different trainset designs using standard specifications for locally-developed traction equipment, bogies and other key components. The resulting series-built trainsets are officially branded 'Fuxing', meaning 'rejuvenation'.