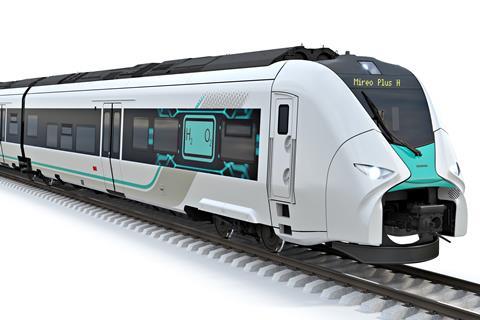 INTERNATIONAL: An agreement to co-operate in the joint development of 'holistic' hydrogen systems to facilitate the replacement of diesel trains with hydrogen fuelled vehicles has been signed by Siemens Mobility and Siemens Energy.
Although Siemens Energy was spun off from the Siemens Group on September 28, Siemens AG remains the largest shareholder. The two companies plan to jointly develop standardised hydrogen fuelling infrastructure, with Siemens Energy offering systems for the generation and provision of 'green' hydrogen, and Siemens Mobility focusing on rolling stock and maintenance equipment.
'Together with Siemens Energy, we can even offer hydrogen as a "hydrogen as a service" model for a train's service life', said Albrecht Neumann, CEO Rolling Stock at Siemens Mobility, on October 5.
Armin Schnettler, Executive Vice-President, New Energy Business, at Siemens Energy, said decarbonisation was one of the company's central goals, and 'this can be achieved – completely CO2-free – with the electrolysis of water using electricity produced from renewable energy sources.'
A key part of the company's strategy is 'sector coupling', the interconnection of previously separate energy sectors such as electricity, heat generation and mobility.
'Working together with Siemens Mobility, we want to drive sector coupling by developing, among other things, an electrolysis and fuelling solution for the fast fuelling of hydrogen-powered trains', Schnettler explained.