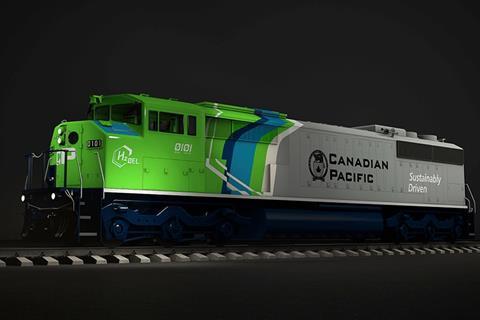 CANADA: Piloting the use of hydrogen locomotives is included in an agreement for Canadian Pacific Kansas City to haul steelmaking coal from Teck Coal's four operations in southeastern British Columbia.
The agreement announced on May 4 builds on existing services for Teck and runs until the end of 2026.
CPKC and Teck intend to pilot the use CPKC's hydrogen locomotives on the trains, with testing commencing in early 2024.
The companies will also work together to increase the resiliency of the supply chain with investment in infrastructure and technology from origin through to destination.
'This collaboration with CPKC to pioneer hydrogen locomotive technology supports our climate action strategy and our objective of achieving net zero by 2050', said Teck CEO Jonathan Price. 'The agreement complements our Neptune Terminals investment and other secured west coast port capacity to support the efficient movement of our high-quality Canadian steelmaking coal to our global customers.'
In late 2020 CP announced plans to develop what it said would be North America's first hydrogen-powered main line locomotive by retrofitting Ballard fuel cells and batteries to an existing diesel-electric loco for testing. It subsequently secured funding from Emissions Reduction Alberta to expand the programme to three prototype locos.
CP has previously tested biofuel, compressed natural gas and battery-powered locomotives.