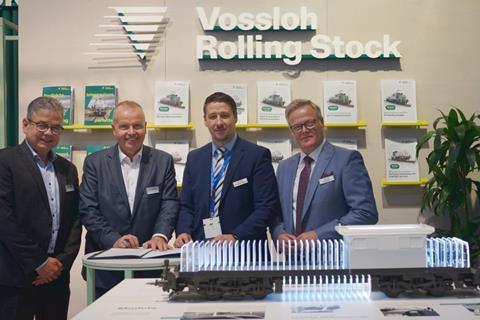 GERMANY: Duisport Rail has signed a letter of intent with Vossloh Rolling Stock for the possible use of two hydrogen locomotives at its inland port facilities.
The operator and its parent company Duisburger Hafen are currently building a new container terminal, where operations are intended to be largely climate neutral. The company last year began a preliminary study into the potential use of hydrogen-powered shunting locomotives, with Vossloh Rolling Stock contributing expertise.
The letter of intent was signed at the Transport Logistic trade fair in München, where the manufacturer displayed a model of its Modula locomotive concept. This is designed to offer a configurable range of traction options including hybrid and hydrogen-based drive systems.
'Some of the diesel locomotives currently in operation will be replaced by hybrid models', explained Hans-Georg Christiansen, Head of Rail Operations at Duisport Rail.
'We have high hopes for hydrogen as a future alternative with the vehicles that shunt outside the electrified rail network. These new Modula locomotives are ideally suited to this strategy because they can be perfectly calibrated to the respective shunting operations and they contribute enormous synergy potential when combined with the battery-powered Modula EBB version, two of which are going into service at the Port of Duisburg in 2025.'
Dr Bernd Hoppe, Executive Director & General Manager of CRRC-owned Vossloh Rolling Stock, said the letter of intent 'sends a strong signal about our company, our collaboration with Duisport Rail and about hydrogen as a key component unlocking eco-friendly answers to the questions posed by the future'.