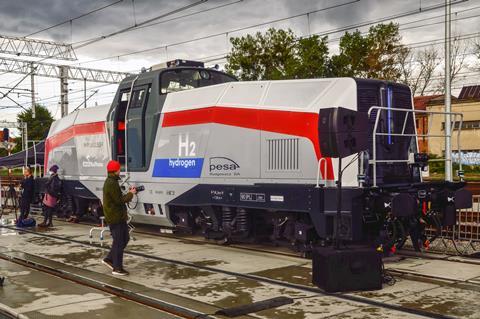 POLAND: Pesa Bydgoszcz has unveiled its prototype SM42-6Dn hydrogen fuel cell shunting locomotive at the Trako 2021 trade fair in Gdańsk. 'This initiative will be of key importance for accelerating the development of this technology in Poland', said Prime Minister Mateusz Morawiecki in a message to the show.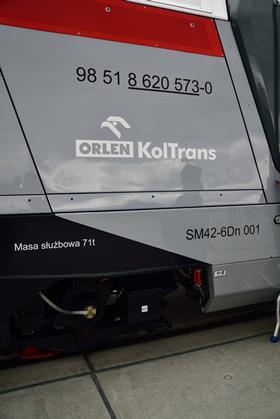 The four-axle locomotive has been produced by extensively rebuilding an SM42 diesel loco. It has two 85 kW hydrogen fuel cells supplied by Ballard, a six-unit high-capacity lithium-titanate-oxide traction battery with a total capacity of 167 kWh, and four 180 kW traction motors. The 32 hydrogen tanks have a total capacity of 175 kg, enabling 24 h of operation.
The centre cab is air-conditioned and equipped with cameras for all-round views. A remote control system enables the driver to operate the loco while also setting up trains, and there is an obstacle detection system.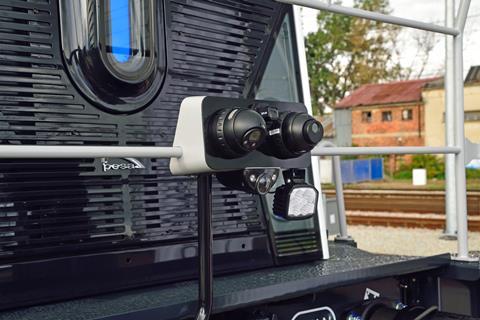 Suppliers involved in the project include ABB, Ballard, Worthington, Lucchini, Rawag, TSA and CADD.
The loco will now undergo testing, before entering service with freight operator Orlen KolTrans at a refinery in Płock next year.
Future hydrogen development
Pesa has a strategic co-operation agreement with state oil refiner PKN Orlen and national railway PKP SA, and expects to sign hydrogen technology co-operation agreements with further partners soon.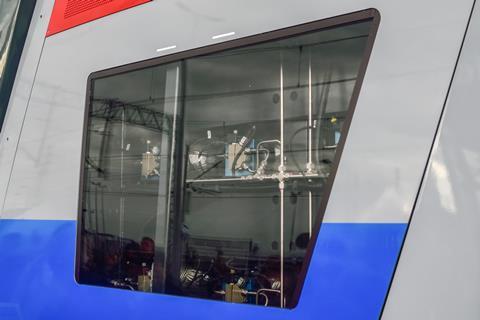 The company's Regio160 electric multiple-unit is designed for overhead, battery or fuel cell power, and it expects to launch its first hydrogen-powered passenger vehicle in 2025-26.
Minister of Infrastructure Andrzej Adamczyk said the unveiling of the loco was symbolically important in the European Year of Rail. 'The implementation of hydrogen technologies in rail transport may be a key factor in CO2 emission reduction', he said, adding that Pesa's work 'confirms the competence and innovation' of the Polish rail industry.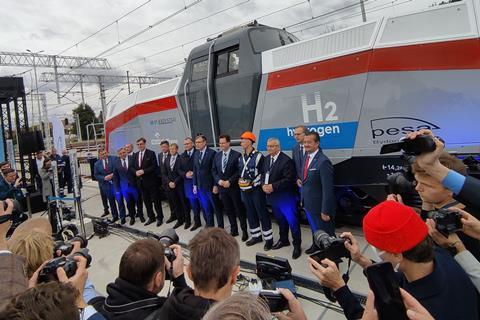 'This locomotive is the beginning of the road to a Polish passenger hydrogen-powered train and another step on the way to the goal of a safe, comfortable and ecological Polish railway', he said.
Paweł Borys, President of state-owned development fund PFR which acquired a stake in Pesa in 2018, said the launch of the locomotive 'confirms the enormous development potential of the company, which has successfully undergone a very difficult restructuring process.'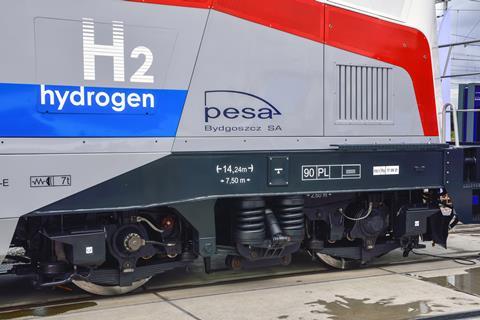 He said Pesa 'is back on track, it carries out production, delivers new vehicles to customers on time, and most importantly it looks to the future', with 'a strategy and a team that can build innovative vehicles that can be used to modernise the rolling stock in Poland and expand into foreign markets.'