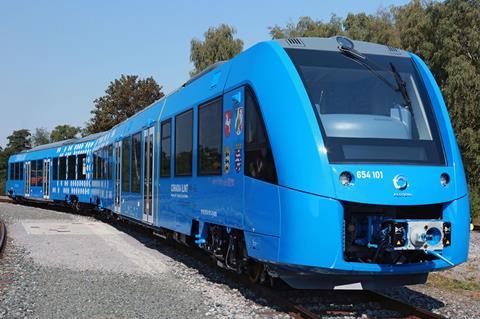 ITALY: A five-year agreement for the development of hydrogen trains and associated infrastructure has been signed by Alstom and energy company Snam.
Under the agreement announced on June 4, Alstom would manufacture and maintain newly-built or converted hydrogen trains, while Snam would develop infrastructure for hydrogen production, transport and refuelling.
A feasibility study is be undertaken later this year with a view to further development of plans in early 2021.
'Hydrogen produced from renewables will become competitive with fossil fuels in a few years and will play a key role in the energy transition, particularly in industry, heating and heavy transport', said Snam CEO Marco Alverà. 'It will be a pillar of the European Green New Deal and post-Covid investments. Snam is investing and innovating to make its network compatible with hydrogen, to encourage the development of new technologies and create an Italian supply chain. Our country has the opportunity to be among the world leaders in the sector.'
'We believe in hydrogen', said Alstom's Managing Director for Italy & Switzerland Michele Viale. The company's Coradia iLint multiple-unit design is already in service in Germany, and 'we hope that Coradia iLint hydrogen trains will soon become a reality in Italy, too. Thanks to a partner like Snam we will be able to respond to the market by offering a fully-fledged solution.'