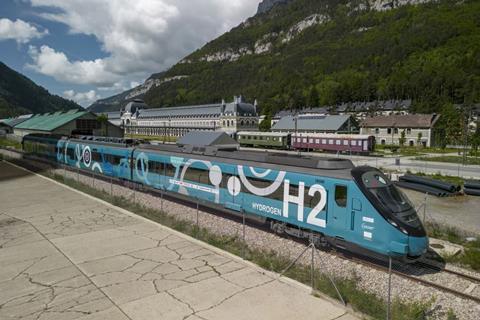 SPAIN: Main line testing is underway with a demonstrator electric-hydrogen bi-mode trainset developed under the Fuel Cell Hybrid Power Pack for Rail Applications project, which aims to produce a zero-emission train competitive with existing diesel trains.
The FCH2Rail initiative is being undertaken by a consortium of rolling stock manufacturer CAF, Spanish national operator RENFE, infrastructure manager ADIF, national hydrogen centre CNH2 and Portuguese infrastructure manager IP.
Other members are German aerospace research centre DLR, Toyota Motors Europe, which has supplied six fuel cell modules derived from those used in Mirai cars, and Wabtec's rolling stock component supplier Faiveley Stemmann Technik, which is looking at ways to reduce the energy needed for heating, ventilation and air-conditioning and analysing the interaction of the overhead electric and hydrogen systems.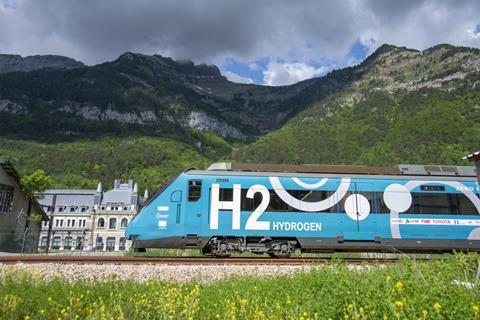 The fuel cells and lithium-titanate batteries have been retrofitted to a three-car CAF Civia Class 463 commuter electric multiple-unit to create a hybrid powertrain able to use overhead electrification or fuel cells and battery power.
The developers say this is the first hydrogen train to be approved for operation on the Spanish national network.
Testing in a range of conditions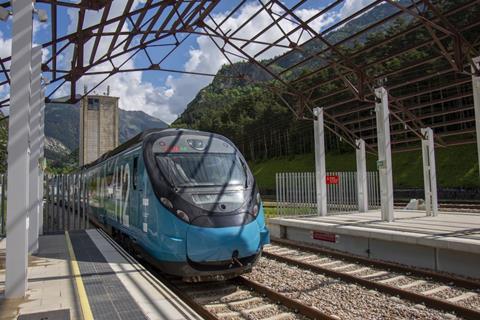 The running tests follows static testing at CAF's Zaragoza plant and dynamic trials on a test track.
The line from Zaragoza to Canfranc in the Pyrenées was selected for the tests because of its steep gradients, which CAF said provide 'a great challenge for the new power generation systems'.
Iberdrola is supplying the green hydrogen from its Barcelona hydrogen plant, Shei-Arpa has provided a high-pressure hydrogen fuelling system, and transport sector hydrogen supplier Ercros is providing accesso its facilities in Sabiñanigo.
Further tests are planned on lines in Aragon, Madrid and Galicia to simulate commercial services with a wide range of power demands and under different climatic and operating conditions.
This will provide data to enable the competitiveness of bi-mode hybrid propulsion to be compared with diesel traction.
The project is scheduled for completion by the end of 2024. It has a budget of €14m, of which €10m is being provided through a grant from the European Commission's Clean Hydrogen Partnership, formerly the Fuel Cells & Hydrogen Joint Undertaking.