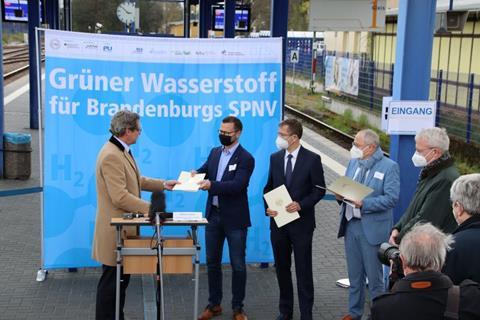 GERMANY: Federal Transport Minister Andreas Scheuer has authorised investment of €25m in a project to introduce hydrogen fuel cell trains in the Land of Brandenburg.
Announcing the grant at Basdorf station on the Niederbarnimer Eisenbahn on May 3, Scheuer said this would be 'a giant step in the direction of climate-neutral rail travel'.
Around €9m will be allocated to Niederbarminer Eisenbahn for acquisition of six hydrogen fuel cell powered trains to enter service from December 2024. They will operate on NE's Heidekrautbahn route RB27 from Berlin Gesundbrunnen and Berlin-Karow to Basdorf, Klosterfelde and Groß Schönebeck and on the branch from Basdorf to Wensickendorf and Schmachtenhagen. The hydrogen-powered trains will replace a small fleet of Talent diesel multiple-units.
Power utility company Enertrag will receive around €13m towards the cost of an electrolysis plant which will use electricity from wind turbines to produce hydrogen. A further €2∙5m will go to district authority Kreiswerke Barnim to pay for a hydrogen fuelling point and associated infrastructure.
The hydrogen-powered fleet will also be used on the 13∙9 km single-track core section of the Heidekrautbahn between Berlin-Wilhelmsruh, Schönwalde and Basdorf which is being reactivated following its abandonment after construction of the Berlin Wall in 1961. This will provide direct access to the city with the medium-term possibility of trains continuing beyond Wilhelmsruh to Gesundbrunnen. Part of the line is used by irregular freight trains and occasional steam-hauled excursions or railbus trips.
Work to reinstate the core section for regular passenger services at a cost of €30m commenced on December 11 2020. The project includes reopening or construction of eight stations, track relaying for operation at 80 km/h and modernisation of several level crossings.
NE board member Detlef Bröcker said the use of hydrogen-powered trains would reduce noise and CO2 emissions and 'enhance the attractiveness of public transport for commuting and tourism, supporting the expansion of environmentally-friendly green mobility in the region'.
Local planners envisage that the hydrogen-powered trains will launch a cluster of hydrogen related projects that will include use of the gas as fuel for buses and utility vehicles.
Associated with the project as research partners are the Brandenburg University of Technology Cottbus-Senftenberg and the DLR aerospace research centre.