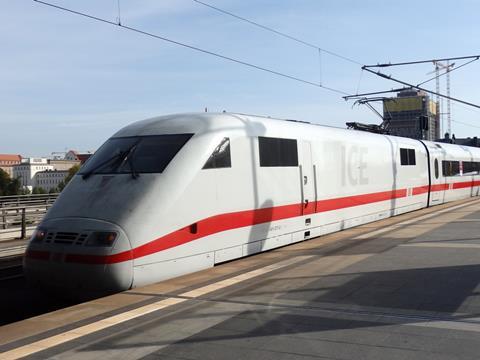 GERMANY: Deutsche Bahn has awarded Alstom a contract to retrofit 19 ICE1 high speed trainsets with Baseline 3 compliant ETCS onboard equipment by September 2021.
The 19 ICE1 sets which operate into Switzerland were the first to be fitted with ETCS, being equipped in 2007 at a cost of SFR34m which was funded by the Swiss government so that the trains could use ETCS on new lines in that country
The €10m contract announced on February 12 is an option on a €23m agreement announced in 2014 for Alstom to equip 40 ICE1 trainsets with ETCS for operation on the high speed corridor connecting Berlin, Leipzig/Halle, Nürnberg and München.
'We are delighted that Deutsche Bahn has again passed a vote of confidence in Alstom for this complex retrofit', said Dr Joerg Nikutta, Alstom Managing Director for Germany & Austria. 'This is a further step towards making Germany fit for digital rail and guarantees Deutsche Bahn a uniform and flexibly deployable ICE fleet.'
The project will involve Alstom sites in Berlin, Braunschweig (design and project management), Charleroi (product development, validation and assembly) and Lyon (component manufacturing).
Modification of the vehicles will be carried out at the Hamburg-Eidelstedt ICE workshop.