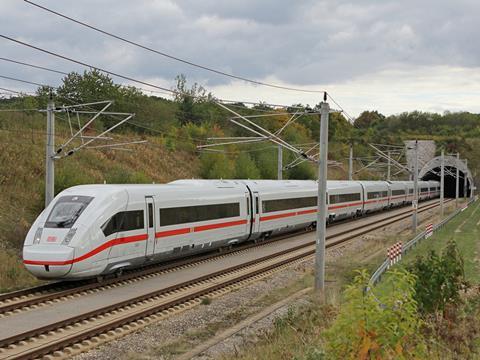 GERMANY: Federal railway authority EBA has approved the operation of ICE4 high-speed trains with ETCS, Siemens announced on November 5. This will enable their use on the Berlin – München high speed line from the December 9 timetable change.
The ICE4 trainsets are fitted with ETCS Baseline 3 onboard equipment, facilitating cross-border operation in Level 2.
The EBA approval for the German network also includes the route to Basel-Bad in Switzerland. Type approval has alreay been for obtained for operation on the Swiss network, and operating certification is pending.
DB has so far ordered a total of 137 ICE4 trainsets, all of which will be equipped with ETCS for use in Germany and neighbouring countries; 100 sets with 12 or 13 cars are intended for use in Germany, Austria and Switzerland, and 37 seven-car trainsets will operate in Germany and Austria.