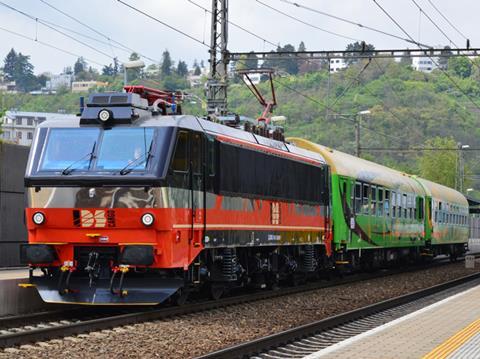 CZECH REPUBLIC: Open access freight operator IDS Cargo has bought CZ Loko's demonstrator EffiLiner 3000 mainline electric locomotive, which it intends to use on transit freight services on the Děčín – Břeclav (–Slovakia) route where it can utilise its 3 kV DC/25 kV AC capability.
Locomotive 365.001 is former SNCB Class 12 dual-voltage electric locomotive 1203, which has been modernised with new cabs, brakes, traction equipment and electronic controls, retaining only the bogies and bodyshell. The maximum speed has been reduced from 160 to 120 km/h to reflect its use on freight traffic.
Following tests at the Velim circuit, the 2910 kW locomotive was approved for operation in the Czech Republic and Slovakia during April. The formal handover to IDS Cargo took place at Praha-Libeň station on May 4, and was followed by a presentation run taking guests to Kralupy nad Vltavou and back.
CZ Loko now plans to begin series modernisation of the other 11 BN/ACEC Class 12 locos dating from 1986 which were moved from Belgium in March 2016. These will then be sold or leased to private operators.