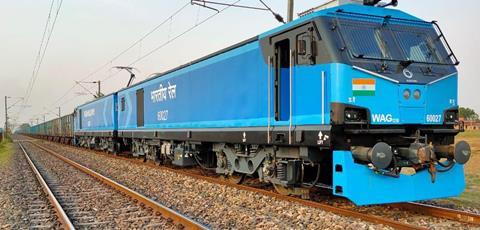 INDIA: The first of 800 Alstom Prima T8 electric locomotives ordered by Indian Railways has entered commercial service following certification.
'Powerful and capable of high speed, the locomotive is a significant addition to the Indian Railways', said Minister of Railways Piyush Goyal when WAG12 loco 60027 hauled 118 wagons from Pandit Deen Dayal Upadhyaya Junction on East Central Railway on May 18. Goyal said the new locos would reduce emissions and operating costs and 'revolutionise freight movement'.
Make in India Powers Railway Manufacturing: 12,000 horsepower Locomotive Engine, built in Madhepura, Bihar departed from Pt. Deen Dayal Upadhyaya Station in UP

The powerful & fast electric loco will cut down emission & operating cost & revolutionise freight movement in India. pic.twitter.com/6sKhPM4nlt

— Piyush Goyal (@PiyushGoyal) May 19, 2020
Alstom said the 9 MW twin-section locomotives were the most powerful to run in India, and would enable the faster and safer movement of trains. They have a maximum speed of 120 km/h, and are expected to help increase the average speed of freight trains by approximately 25 km/h to between 50 and 60 km/h. They have primarily been ordered to haul trains of up to 6 000 tonnes on the Eastern Dedicated Freight Corridor at up to 100 km/h.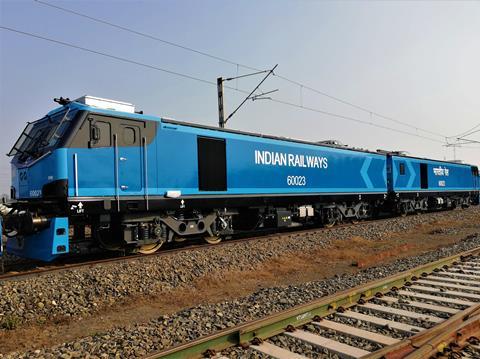 The twin Bo-Bo WAG12 is a development of previous Prima designs including locomotives supplied to Kazakhstan, but with modifications to suit Indian requirements including the 1 676 mm gauge. They have IGBT propulsion technology, and are equipped for regenerative braking which is expected to provide 'considerable' savings in energy consumption.
The locomotives have a 22·5 tonne axleload and a maximum tractive effort of 706 kN, with the ability to start a 6 000 tonne train on a gradient of 1 in 150.
They can work on routes with conventional overhead electrification as well as on the Dedicated Freight Corridors where the contact wires are higher above the rails.
'This revolutionary product will be faster, safer and more environmentally friendly, and it will help write a new chapter for India's sustainable mobility journey', said Ling Fang, Senior Vice-President of Alstom Asia-Pacific.
'Proud moment' for India
The Ministry of Railways said the entry into service of the first WAG12 locomotive was 'a proud moment', as India became the 'sixth country in the world to join the elite club of producing high horsepower locomotive indigenously.'
The Rs250bn contract for 800 locomotives was agreed in November 2015, after an international tender for which Alstom, Bombardier, GE Transportation and Siemens were shortlisted.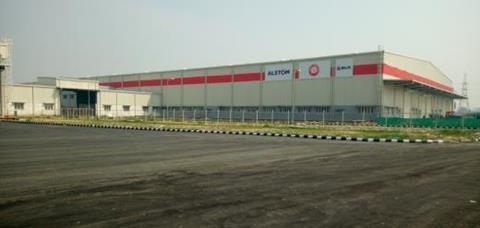 The government required all but the first five locomotives to be produced locally as part of its Make-in-India initiative. Design work has been undertaken at Alstom's Engineering Centre in Bengaluru, and the locos are being manufactured by the Madhepura Electric Locomotive joint venture between Alstom (74% and the Ministry of Railways (26%).
The 'international standard' integrated plant has been built on a greenfield site in Bihar. Inaugurated in October 2017, it has the capacity to assemble 120 locomotives per year, with production scheduled to last 11 years. Skill centres are being set up to provide training for local people.
The prototype locomotive was delivered for testing in March 2018, but issues were identified which led to what the Ministry describes as a redesign of 'the complete locomotive including bogies'. The revised design was inspected by Research Design & Standards Organisation and cleared for dispatch from the factory on November 16 2019 and RDSO has since conducted oscillation trials at speeds up to 132 km/h which the locomotive successfully passed.
The Ministry said the redesign had been completed in a 'record time of four to six months', despite 'initial hiccups and the onset of the Covid-19 pandemic'.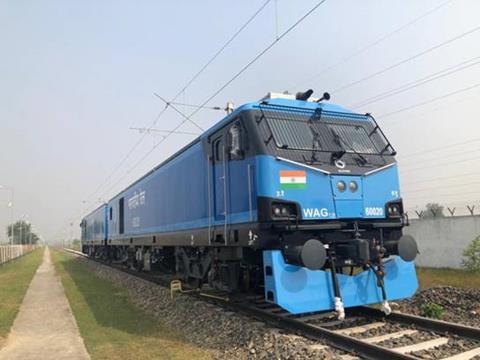 The locomotive contract includes 11 years of maintenance which will be undertaken at two purpose-built facilities. The depot at Saharanpur in Uttar Pradesh is now operational, and the other at Nagpur in Maharashtra is under construction.
Subcontractors involved in the locomotive project include ABB, which is supplying the transformers, and Knorr-Bremse providing the braking systems. Saft's factory in Bibadi is supplying SRM+ batteries to provide back-up power for the control and safety systems.
Wabtec's former GE Transportation business has a similar but separate deal also agreed in November 2015 which covers the supply of 1 000 Evolution Series diesel locomotives to Indian Railways.